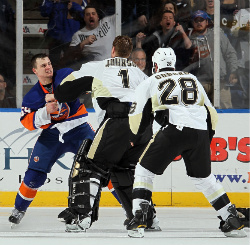 By: Adam Gretz
One of the highlights of the 2010-11 New York
Islanders
season was a 9-3 dismantling of the Pittsburgh
Penguins
in mid-February. The good news was the Islanders blew out a division rival, scored nine goals and sent a message to a team that had embarrassed them during the previous meeting (that was the game Penguins
Brent Johnson
fought, and injured, Islanders goalie
Rick DiPietro
).
The bad news is that game was also the one that featured a series of ugly moments (including
Trevor Gillies
elbow on
Eric Tangradi
and Gillies yelling at him from the tunnel,
Matt Martin
's sucker punch on Max Talbot, Penguins enforcer
Eric Godard
leaving the bench to join a fight, Michael Haley and Johnson fighting), and saw the two teams combine for 342 penalty minutes and many ejections.
In the aftermath the NHL issued a number of suspensions, including nine games for Gillies and 10 games for Godard (which was automatic for leaving the bench to join a fight), while the Islanders organization was also fined $100,000 by the NHL. The Penguins, meanwhile,
were furious that the NHL didn't do enough
.
It was madness.
Why is this news again now in the middle of August? Because the Islanders organization has announced plans to hold a viewing party to watch a replay of the game on August 19.
Here's
the invite from the Islanders official website
:
The night of February 11, 2011 was memorable for Isles fans. Whether you were in the stands at the Coliseum or watching on TV, you were on your feet through all the ruckus cheering for the Islanders to beat the Penguins. On Friday August 19th, MSG Plus will re-air the game and we want the fans to join us for a viewing party at Champions. Same awesome deal as usual, raffles, prizes and more. RSVP now and remember to there early and get a table with your friends. Stay tuned to #Isles and #IslesMeetup for all the latest and for more information.
It was certainly a memorable game, but mostly for the wrong reasons. The party has already sparked some controversy
from Penguins fans
and
impartial observers.
Right or wrong, fighting is a part of the hockey culture, and is often times celebrated (heck, think of the events during a hockey game that bring fans out of their seats: goals and fights), and yes, I myself do enjoy watching two heavyweights drop the gloves to a mutually agreed upon bout.
But should the Islanders -- or any team -- be celebrating an event that the NHL deemed bad enough to suspend two of their players for a combined 13 games and fine the organization six figures? Even though times have been rough in recent years for the Islanders franchise, they do have some players in their young core that are worth being excited about. This just seems a bit odd coming from an organization that used to celebrate Stanley Cups.
Photo: Getty Images
For more hockey news, rumors and analysis, follow @EyeOnHockey and @agretz on Twitter.