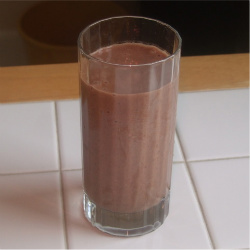 By: Adam Gretz
How can you tell we're looking forward to the start of a new hockey season? We're reviewing items off of the Gary Roberts menu featured
in Sunday's Globe and Mail
to help pass the time and count down the days.
If nothing else, I wanted to taste some new dishes, and the hockey connection just adds even more incentive to try them.
On Tuesday I cooked up a batch of Roasted Red Pepper Mayonnaise
and came away very impressed
. On Wednesday I decided to go with Gary Roberts's Molten Chocolate Mousse (pictured), which is mainly bananas and cacao powder. I figure I like chocolate, I like bananas, so it has to be good, right?
Let's find out.

What You Will Need:
Four bananas, 1/4 cup cacao powder, water.
With four bananas you're definitely going to get your fix of potassium for the day. As for the cacao powder, I picked up a box from the local natural food store; it'll run you about $8.
Recipe And Prep Time:
It's pretty simple, if you can peel bananas, use a measuring cup and add everything to a blender until it's mixed together. The entire thing from start to finish takes no more than five minutes.
Overall Review:
The first thing you notice about this shake is that it is
thick
, so thick that it could probably be consumed with a spoon with no problem. After taking the first sip my initial reaction was to throw the rest of the pitcher away and burn the blender it was prepared in. It was strong, and didn't have the taste I imagined it would have (which is odd, seeing as how there's only three ingredients). I gave it another shot and with each sip the taste started to come around a little, to the point I was able to finish most of it. I can't say it's something I would want to drink regularly, but it ended up finishing much better than it started.
If It Were A Hockey Player:
It would be
Ryane Clowe
of the San Jose
Sharks
. Great size, tends to start off a little slow but ends up rebounding quite well to be very useful.
Photo from: My kitchen
For more hockey news, rumors and analysis, follow @EyeOnHockey and @agretz on Twitter.