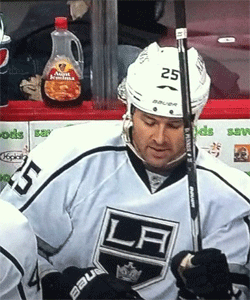 There just has to be an endorsement waiting here for Dustin Penner, doesn't there?
The Los Angeles Kings forward who missed a game earlier this season after injuring himself while eating pancakes has been soaking it up like a flapjack does syrup ever since. He hasn't shied away from talking about one of the most bizarre injury stories we've seen in a long time, instead embracing it.
He has poked fun at himself about it multiple times. Now fans are poking fun at him about it too. Check out what some clever fan pulled off in Vancouver last night, putting a tub of Aunt Jemima's delicious maple syrup behind Penner on the Kings bench last night. Brilliant.
It would have been really great if the Green Men would have had the chance to heckle Penner in the penalty box last night. They could have pulled this stunt off with pancakes instead of waffles.
Maybe this whole thing is going to be enough to get Penner off the schneid. It's possible the whole thing could loosen him up and lead to some better results on the ice for the Kings. It at least did in Vancouver on Tuesday night as Penner scored just his third goal of the season.
It's obviously something that's never going to go away. When his career is done, he'll always be remembered as the Pancake Guy, even if he does a lot of great things.
There's no way he doesn't soon pick up a nickname like IHOP if he hasn't already, right?
Photo: From @Kylelev via Puck Daddy
For more hockey news, rumors and analysis, follow @EyeOnHockey and @BrianStubitsNHL on Twitter.