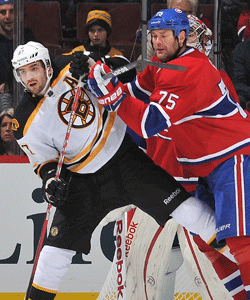 Before the season, there was a lot of lip service given to the Stanley Cup hangover. While I could see the thinking behind it, I wasn't sure I believed it would really have a negligible effect.
While it could be pure coincidence, I'm beginning to believe in the power -- or more appropriately pain -- of the hangover. That's because the Boston Bruins are 3-7 to start the season after being swept in a home-and-home by the not-long-ago struggling Canadiens (by the way, that's three straight wins since the Habs axed assistant Perry Pearn). For those keeping track at home, that's good enough to be last in not only the Northeast Division, but the Eastern Conference.
"Honestly, this is so frustrating," defenseman Dennis Seidenberg said after Saturday's 4-2 loss in Montreal. "I don't know. It's like we can't buy a break right now and we just keep getting deeper. We need to turn this around."
Maybe this is a team that used up all of its breaks last season.
But I didn't see this hangover coming this harsh to start the season. I mean, this is the kind I'd get in college when I'd sleep through breakfast, lunch and dinner.
I was a believer in Boston last season, picking them to win the Cup before the playoffs began. I'm a sucker for plus/minus stats for teams, and nobody was better than Boston in that category a season ago. I took that as a sign of quality balance and partly the product of Tim Thomas' career year.
Thomas hasn't been the problem this year, even if he's not living up to the standard of a year ago. But nobody, and I repeat nobody, expected that season again. It was record-setting as far as save percentage goes, the best in NHL history. That's tough to repeat.
No, instead it's been the offense. It's a group that doesn't seem to possess any elite scorers, but as the playoffs showed, there are numerous guys who are good enough. They have just 22 goals in 10 games. Defensively, there 25 goals allowed is the second lowest total in the East behind only Buffalo.
Claude Julien has tried to fix the issue. There has been line mixing. The team's best player has been sophomore Tyler Seguin, who has four goals and six points. Only five players have at least five points through 10 games.
For his part, GM Peter Chiarelli is not panicking yet. Why would he? This current roster is almost exactly the same as the one that won the championship a few months ago. Obviously it is good enough. But Pierre LeBrun of ESPN.com reported that Chiarelli might be working the phones already, trying to perhaps find a player to come in and inject some life into Boston.
"I'm always working the phones, but I am a little more diligent these days," Chiarelli told ESPN.com on Thursday.
This is the part where we normally remind you that we're only 10 games into the season. There is still a lot of time for the B's to wake up and defend their Cup in earnest. But it's also worth noting that the Northeast Division and Eastern Conference are looking better this season.
They can't afford to sleep in too long until the headache goes away.
Any be-Leafers now?
When do you start believing in what the Toronto Maple Leafs are doing? Ron Wilson's crew is 7-3-1 begin the year. The last three games, including Saturday's OT win over the Penguins, have been with starting goaltender James Reimer injured. They did get tripped up by the Sens on Sunday night in a great game.
We chuckled at the uber optimism Leafs fans were feeling with the quick start and statements such as Phil Kessel is headed for Wayne Gretzky numbers. Now there is a bigger sample size of 10 games and Kessel has 10 goals with eight assists. It's still a small sample size, however it's easier to take big projections. Don't expect Gretzky numbers, but it could be a monster season nonetheless.
Speaking of monsters, Jonas Gustavsson has fared certainly well enough in Reimer's absence. With Reimer sidelined for a little bit, this was Gustavsson's chance to show he could handle the backup duties himself. So far so good. He was good enough on Saturday for Ron Wilson -- one of the few coaches on Twitter -- to pronoune him the starter for Sunday night's game against Ottawa, a loss.
"Great win. Monster was huge and gets start tomorrow. Komo keeps getting better. Dion and Phil are the best at their positions in NHL!"
If nothing else, let's just say it's time to take Toronto a little more seriously.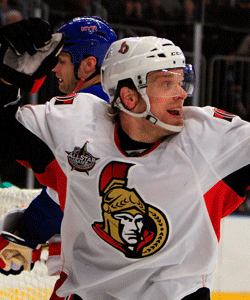 Streaking Senators
Raise your hand if you saw the Senators winning six games by Thanksgiving before the season began.
Forget Thanksgiving, the Sens have won six games in their last six outings after a great comeback win over the Rangers on Saturday and then a solid win over the Maple Leafs on Sunday. Things seem to be coming together quickly.
It doesn't come as much of a surprise, but Jason Spezza has been his usual spectacular self. He has 15 points through 12 games (7-8=15). But also joining him in the better-than-a-point-per-game pace are Milan Michalek and Erik Karlsson, who has an NHL-high 12 assists.
Before the season, a lot of folks had the Senators as the preseason favorites for the Nail Yakupov (top draft prospect) sweepstakes. While they still could be, they are at least giving the fans some fun along the way.
A Star is born
Has anybody noticed what Kari Lehtonen is doing in Dallas? Judging by the attendance, the majority of the Metroplex hasn't.
The Stars are 8-3-0 after Saturday's 3-1 win over the New Jersey Devils. In those 11 games, Lehtonen is 8-1. He carries a goals against average of 1.75. He has been simply stellar for a team now being led not by Brad Richards, but instead by a bevy of young guns and veteran defenseman Sheldon Souray.
Lehtonen is at that magical age in sports when they are supposedly at their peak, 27. After playing in 69 games a season ago, he looks ready to carry the load again this season.
Just another quality goalie from Finland. Ho hum.
As for the attendance? Well Saturday night only 11.740 were announced to be in the stands to witness the win. I understood the reasons for low attendance numbers earlier this season, baseball's Rangers were fighting for the World Series and, well, the Stars lost their big star in the offseason. But with this kind of start and the Rangers now done, I hoped to see more than 11,740 in the crowd. Baby steps, I guess. Baby steps. If the Stars keep winning, they will come.
Night Caps
The Washington Capitals took on the Vancouver Canucks in the Saturday night cap and it didn't last long for Tomas Vokoun. The Capitals goalie gave up three first-period goals, two of them being on Canucks power plays, and was pulled by coach Bruce Boudreau to start the second.
The reason? Boudreau wanted to give the team a spark. Well, his Caps did come back to the tie game, but it all got away from them again in a 7-4 loss. (On a side note, a four-goal performance won't do much to change the Canucks fans' feelings about Roberto Luongo either.)
Some are seeing it as a deal. Boudreau said Vokoun wasn't particularly sharp. Vokoun said he felt fine.
But I'd like to point out that Vokoun had played every game since Michal Neuvirth was given the opening-night start. If nothing else, Vokoun deserved a break.
We're going streaking!
As already mentioned, the Ottawa Senators now have a six-game winning streak going. But they're not alone.
The San Jose Sharks have also won five in a row. More impressively, all five of those games were on the road, including Saturday's shootout win over the Islanders and a win on Friday over the Red Wings.
Speaking of Detroit, it has lost four games in row since beginning the year 5-0. Maybe that 7-1 beatdown at the hands of the Capitals sent them into a funk?
The Islanders are also in an early tailspin. Make that five losses in a row for them after Saturday's loss to San Jose.
Last but certainly not least, the Edmonton Oilers are very quietly in first place in the Northwest Division, surpassing the Colorado Avalanche. That's because the Oilers have won five games in a row after weekend wins over the Avalanche on Friday and Blues on Sunday. The Kids in the Hall are getting a lot of attention for that, but Nikolai Khabibuln has been spectacular.
Quote of the weekend
Florida Panthers coach Kevin Dineen was very happy with his team's 3-2 comeback win over the Sabres on Saturday night. He took it as a chance to talk a little, umm, anatomy.
Let's just say he appreciated the marbles his team showed by scoring twice in the final four minutes for the win.
Photo: Getty Images
For more hockey news, rumors and analysis, follow @EyeOnHockey and @BrianStubitsNHL on Twitter.