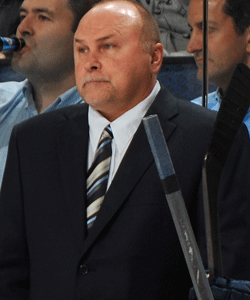 The Barry Trotz tour of tantrums continues with a stop in Calgary on Saturday to conclude the Predators' first Western Canada swing of the season.
If you haven't been paying attention to the Predators for the past week, you've been missing out. Not so much with their play -- Nashville enters Calgary on a four-game losing streak and a minus-7 on the season -- but from Trotz, the well-renowned head coach for the Preds. He has been less-than pleased about his team's recent performance and hasn't been afraid to tell everybody.
After the Predators lost to the Oilers 3-1, Trotz was clearly upset, saying the team had to "start from scratch." But the majority of the sound bite came from Jarred Smithson, who undoubtedly echoed Trotz's frustration.
"It's not one guy, it's not two guys, it's the whole group. Pekka [Rinne] is the exception. He's the only guy playing his balls off right now and if it wasn't for him, we don't have any points. I don't know what to say about tonight, it was terrible."
Oh, but the fun was only just beginning. Because Thursday night brought about a 5-1 loss to the Canucks in Vancouver and more Trotz frustration. A lot more. (Quotes courtesy of Twitter feed from Joshua Cooper of the Tennessean)
His assessment of rookie Mattias Ekholm? "I thought he was horrible, just horrible." Ouch.
How about his feelings on his younger players having to go up against the likes of the Sedin twins, Ryan Kesler and the rest of the Canucks? "You're going to have to line up against the best in the league, if you're scared of that, get a dog."
Finally, he took the time to thank Canucks coach Alain Vigneault. Seriously. ""I want to thank Alain Vigneault for not playing his top two lines the last 10 minutes."
Making matters worse before they face Calgary, it looks like they will be without star defenseman and Norris candidate Shea Weber after the hit he laid on Jannik Hansen of the Canucks. That won't help the struggling offense get any better.
The Predators better hope they show up with a better effort in Calgary or it might be a lot of bag skates coming their way.
Somebody's got to lose
There are only two remaining unbeaten teams in the NHL, and they will meet on Saturday. Hopefully they will both be perfect as that makes for one delicious matchup.
The Capitals are sitting at 6-0-0 for the first time in franchise history of their 5-2 win over the Flyers on Thursday. So they enter the battle against the Detroit Red Wings on Saturday in Washington unblemished.
The Red Wings will have to go through the winless Columbus Blue Jackets on Friday night first, but considering the struggling Jackets will be without Jeff Carter and James Wisniewski, you have to like Detroit's chances.
One thing to keep an eye on, Detroit is the only team in the league not to have played five games entering Friday. They're last game came a week ago Saturday against the Wild. So the legs are as fresh as they can get.
Brotherly love
The Carolina Hurricanes have a pretty famous hockey brother on their team. Captain Eric Staal gets chances to reunite with siblings whenever he plays against the Penguins (Jordan) and Rangers (Marc) while his youngest brother (Jared) is in the Hurricanes farm system.
But Friday night will bring about another sibling rivalry for the 'Canes. When they take on the Blues in St. Louis, Anthony Stewart will go up against his brother Chris Stewart. It marks the first time the brothers will play in an NHL game against each other.
"I'm excited," Chris said. "I felt like it's been a long time and a long time overdue. We went for dinner [Wednesday] night, and I'm sure we'll go for dinner again tonight. I look forward to tomorrow."
"It's a big day for our family. They're going to be watching," Anthony said. "They're not going to make it in, but they're definitely excited and the buddies back home are texting us asking if we're going to fight. We'll be fighting on the score sheet. That's probably about it."
Here's their shot
Let's just assume the Red Wings take care of the Blue Jackets on Friday night. Seems like a pretty safe bet. So they will be 0-6-1 headed into Saturday, their final game without Wisniewski. They will have a very winnable game in Ottawa against the Senators.
Ottawa is a league-worst minus-11 on the season, tied with Winnipeg at the bottom of the league. The Sens have given up 31 goals in seven games, that's more than four per game.
If they can't get the win in Ottawa, then you really have to wonder how long it will be. After playing the Senators, Columbus will play Detroit (4-0-0) at home, go to Buffalo (5-1-0) and Chicago (4-1-1), play the Ducks (4-1-0) and Maple Leafs (4-1-1), visit Philadelphia (4-1-1) then host Chicago again. Finally, they'll get a reprieve and face the Jets at home.
Columbus could sure use one or both of the games this weekend.
Mile(stone) marker
San Jose Sharks forward Joe Thornton will play in his 1,000th career game this weekend when his team plays the Devils Friday night in New Jersey. Then on Saturday he'll play No. 1,001 in Boston, the city where he began his career.
Thornton was a member of the Bruins from 1997 until the 2005-06 season when he was sent to the Sharks for Marco Sturm, Wayne Primeau and Brad Stuart.
To show how good he's been throughout his career, here's a stat courtesy of fellow Eye On Hockey blogger Adam Gretz (@agretz on Twitter): Only five players have at least two 90-assists seasons: Joe Thornton is one of them. The others: [Wayne] Gretzky, [Mario] Lemieux, [Bobby] Orr, and Adam Oates.
"It goes by incredibly fast," Thornton said. "As a young guy everybody says enjoy it because it goes by very quickly. It sure does. Now I'm the older guy telling the younger guys."
Of course with all his accomplishments, including the Art Ross and Hart trophies in 2005-06, he's missing the biggest one, the Stanley Cup. That's the goal this season, but the Sharks are slow out of the gate.
"We're obviously 1-3 in the standings but I feel we've played pretty well," he said. "Just stay positive and start getting some points."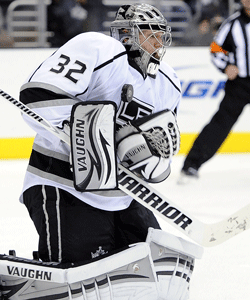 Quick start
Los Angeles Kings goaltender Jonathan Quick has himself quite a little streak going. He has recorded back-to-back shutouts, one against the Blues, the other vs. the Coyotes on Thursday night.
Assuming he gets the start on Saturday back home in Los Angeles, he'll get a stern test from the Dallas Stars, who are off to a quick start themselves.
They come into the weekend in Tinsel town with a 5-1-0 record and will not only face Quick's Kings, but first must go through the 4-1-0 Ducks on Friday. Throw in the Sharks' potential and the Pacific Division might be on its way to being a monster this season.
There will be some good hockey in Southern California this weekend, so enjoy.
Southeast Winnipeg
The most awkward divisional alignment begins this weekend when the Jets will host the Hurricanes. It is Winnipeg's first taste as a member of the Southeast Division, an arrangement that is just a touch unnatural, something that will be remedied before next season.
Hockey night indeed
It's always worthwhile when the Maple Leafs and Montreal Canadiens do battle. They played the first game of the season (get the honor thanks to Boston's pregame Cup ceremony) and will have Part II on Saturday in Montreal.
Let's play two

We'll also have a pair of division leaders doing battle for the second time in three days. The surprising Colorado Avalanche, a perfect 5-0 on the road this season, will be in Chicago to face the Blackhawks on Saturday night. Chicago won the opening game of the home-and-home series, beating the Avs 3-1 on Thursday.
Photo: Getty Images
For more hockey news, rumors and analysis, follow @EyeOnHockey and @BrianStubitsNHL on Twitter.