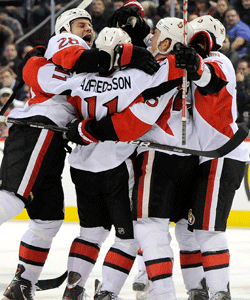 As the Monkees once sang, I'm a believer.
It has taken more than half a season, but I'm ready to buy stock in the Ottawa Senators. Now I don't think I'd like them to do much beyond make the playoffs at this point, but considering preseason expectations, that's a minor miracle in and of itself.
Before the season began, I remember seeing Senators GM Bryan Murray saying he thought his team could make the playoffs this season contrary to about everybody's prediction of the team's outlook. I also remember my reaction to it was to laugh.
My laughing has stopped.
The Senators pretty much dispelled any notion that this has been a fluke. Their 46 games played are enough to convince you otherwise.
Something else I personally was laughing at was their trade for Kyle Turris. Based on a few seasons of minimal production in Phoenix, I was of the mind that Kyle Turris wasn't as good as his draft position a few years ago indicated, that he was still living off a "potential" tag that wasn't going to materialize the way everybody hoped. In short, I saw Turris as being overrated.
So here's an "oops" on a couple of accounts.
The match of Turris and the Senators has been one forged in heaven. Or something like that. Since Murray shipped defenseman David Rundblad to the Coyotes (who has since been sent down to the AHL) in exchange for Turris, it's been a win for the Senators. A lot of wins.
With Turris in their lineup, the Senators are a sensational 12-2-2, including four consecutive wins after the prevailed over the Canadiens in a shootout on Saturday. Turris has contributed two goals and seven assists in that time.
They have come a long way since that 1-5-0 start to the season.
On the sobering side, they still give up way too much. Their 3.13 goals against per game clocks in at 27th in the league, ahead of only the Hurricanes, Blue Jackets and Lightning. Just check the standings to see how those teams are faring by giving up so much.
But the Sens can score. You can nit-pick their four All-Star selections, but none of them is completely undeserving. In a game that values offense, the Sens have that covered. Between Milan Michalek, Jason Spezza and the venerable Daniel Alfredsson (as well as Erik Karlsson on the blue line) you see how Ottawa is where it is.
Now you have to account for some inflation here. The Senators have played more games than any of the other contenders in the East, so everybody has games in hand on them. But fact of the matter is they have put themselves in a good position to withstand the tide turning back toward other teams in the games-played department.
This is a big stretch for the Senators, playing nine games out of 10 on the road and so far they are three for three.
Feel free to believe.
Home sweet home
The game of the weekend got Saturday started off right with an early faceoff in Detroit. The Red Wings and Blackhawks met for the third time this season, and for the third time it was a 3-2 final. Talk about great hockey.
More from the weekend
Recaps
Stories
Considering the game was at the Joe in Detroit, you should have no problem correctly guessing who prevailed. It was an OT tally from Todd Bertuzzi that gave the Wings the second point on the day, an overtime that was completely controlled by Detroit.
The Red Wings have a great history. You all know that. They have become the definition of a playoff staple. So it's saying something about this year's team when you consider they just captured their 14th consecutive win on home ice to tie a team record. That goes all the way back to 1965.
"Even though we're in the thick of a tight race, it is something we can be proud of as a team," defenseman Nicklas Lidstrom said. "This franchise hasn't done this since the 1960s, so it says a lot that we've been able to do it."
That's why the Central Division race is going to be so critical this season. If the Red Wings can get the division title, they are guaranteed to have home ice for at least one series come playoff time. In a division as tight as the Central.
The devil inside
One question I've heard a few times in the press box this season is if the New Jersey Devils are for real. My answer: no doubt.
They aren't without their concerns, for sure. Their goalie situation isn't ideal these days with Martin Brodeur and as good as their power play can be with the skill they have, they have a little problem allowing short-handed goals.
But the thing with the Devils that people forget is that last season was the anomaly. The expectations weren't high because of the miserable first half they endured last season, partly due to salary cap constraints, partly due the absence of Zach Parise.
Bring back a healthy Parise and the rookie Adam Henrique and you have the Devils playing good hockey this season. They were able to do what very few teams have been able to on Saturday night and that was to go into Winnipeg and come away with a victory over the Jets at the MTS Centre thanks to two third-period goals. The winner came from Patrik Elias, his 16th.
Therein lies one of the things I like about any staying power for the Devils, they are more than Parise, Ilya Kovalchuk and Henrique. They have some second-level scoring to fill in.
Plus, they don't lose in shootouts or overtime much at all. That doesn't help when the postseason comes around but it can help them get there.
They needed that
It sounds like hyperbole, but this really might have been the biggest weekend of the season for the Pittsburgh Penguins. They were struggling bad, having lost six games in a row for the first time in years. Then there was the drama about some possibly internal strife and the idea that the Penguins might name a captain in Sidney Crosby's absence.
The team debunked any of that talk on Friday when they took to the ice in Sunrise, Fla. for their morning skate with everybody wearing a C on their sweater (except for Evgeni Malkin who wore a K). The media scrutiny of them and their captain was apparently getting to them so they fought back.
And then they fought back into the Eastern Conference playoff picture, too. They came out against the Panthers on Friday night and assaulted the Southeast Division leaders (not for much longer) on their way to a slump-busting 4-1 win. Making sure not to follow it up with a thud, they jumped on the Lightning in Tampa Bay on Sunday and held on to give the Bolts a seventh straight loss.
To put in perspective how dominating they were, the Pens outshot the Panthers and Lightning by a combined 85-46 and won each game by three.
That was a weekend that was sorely needed. The team appears to be galvanized by the whole episode, playing some great hockey in Florida. Either that or the feel of a vacation in the Sunshine State did the trick.
Quote of the weekend
"That should suggest to this whole locker room that we're not far off." -- Carolina Hurricanes defenseman Jay Harrison.
That came after the Hurricanes pulled off the "say what?" moment of the weekend by doubling up the Bruins in Carolina 4-2 on Saturday night.
They might believe they're not far off as far as putting it all together, but they're still very far off when it comes to the standings. However three wins in a row has done something for them in the standings, take them out of the Southeast cellar thanks to the Lightning's skid.
Photo: Getty Images
For more hockey news, rumors and analysis, follow @EyeOnHockey and @BrianStubitsNHL on Twitter.