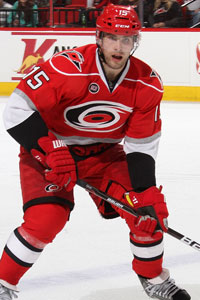 Ruutu's career high was 26 goals in 2008-09 with Carolina. (Getty Images)
Just the same as they did with Tim Gleason a few weeks ago, the Carolina Hurricanes took another player off the trade market by instead signing them to an extension. This time it's forward Tuomo Ruutu.
It wasn't long ago that Ruutu was being described as one of the top names on the trade market this season. It wasn't saying a whole lot for the market as a whole with so few sellers, but Ruutu was going to garner interest as an available top-six forward.
Just five days from the deadline and with him still in Carolina, you can scratch that. There had been increasing talk that the 'Canes were going to re-sign Ruutu instead of trading him and that's exactly what they have done.
The deal is for four seasons and will pay Ruutu $4.75 million per season. That's from GM Jim Rutherford courtesy of Chip Alexander of the News & Observer. The 'Canes are one of the few teams that releases contract information. It will also reportedly include a no-movement clause for the first three seasons.
"He's an important player to our team," Rutherford said. "He's the type of player that, long term, would be hard to replace."
That does underscore a valuable point this trade season. So often teams trade away a star for prospects and a pick and so often it's almost impossible to get the same production in return. Sometimes you need to take the sure bet and keep the player who you know.
NHL Trade Deadline
More NHL coverage
The deal seems a bit high to me, personally. Ruutu is a good forward and supposedly very good as a team presence, but with that kind of money he's going to pick up the scoring a little bit. This season he has 17 goals and 13 assists in 57 games. To make the contract worth it for a team that is often on the short end of the payroll scale, you'd like to see him consistently score in the high 20s or even the 30s.
He was already carrying a cap hit of $3.8 million this season, so a rise was coming anyway. Now he's a Hurricanes through the 2016-17 season, the same length as captain Eric Staal.
More from Eye on Hockey
Ruutu to miss three weeks
Gleason re-signs for four seasons
For more hockey news, rumors and analysis, follow @EyeOnHockey and @BrianStubitsNHL on Twitter.