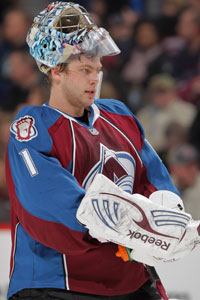 Varlamov has lost his starting role to Giguere. (Getty Images)
The Colorado Avalanche headed into the free agency period on July 1 last summer without anybody ready to take the reins in goal. They were widely considered the favorites to sign Tomas Vokoun until they surprised most people by backing off and instead trading for Semyon Varlamov of the Capitals.
It showed how much the Avs wanted Varlamov, who was on his way out of Washington anyway. They shipped the Capitals a their first-round pick in the 2012 draft and a second-round pick in either 2012 or 2013. They also signed veteran Jean-Sebastien Giguere to be his backup.
The expectation was pretty clear: Varlamov was going to be the Avs' starting goalie, and hopefully do that for a long time. After all, he's only 23.
Problem is, Varlamov hasn't played like a franchise goalie, instead showing the form that led the Capitals to having no problem in trading Varlamov away. His record this season is 14-15-1. His goals against average is 3.00 and save percentage at .899. Conversely, Giguere is having a bit of a career revival with a 2.15 GAA and .921 save percentage.
That has led to coach Joe Sacco taking the title of starting goaltender and bestowing it upon Giguere, not Varlamov.
"J.S. is playing well right now, and it's good for the team," Varlamov told the Denver Post. "I just have to keep working. I know it's going to be tough, but I just have to be ready -- always."
At least he's saying the right things. Let that be a lesson to all the aspiring professional hockey players out there: stick to the clichés and you'll be fine. Watch a little Bull Durham and you're good to go.
Unfortunately for Varly, he hasn't been doing the right things on the ice. He hasn't played since he was abused for six goals by the Coyotes nine days ago.
"That's why I'm not playing right now, I think," Varlamov said. "But it's a long season. We still have 30 games after the break."
He has a lot of work to do if he wants to reclaim the lion's share of the work. The Avs are one of the surprise teams in the NHL at the All-Star break, I don't think many people saw them holding a playoff spot at this point, even if it is the eighth and final spot. Giguere is a large reason why, he has been excellent.
For more hockey news, rumors and analysis, follow @EyeOnHockey and @BrianStubitsNHL on Twitter.