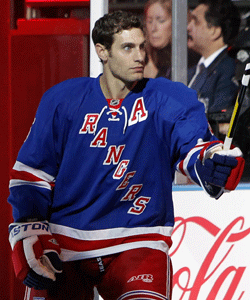 The NHL All-Star voting has commenced on NHL.com and as usual, there are some fan campaigns trying to take the process over.
The first attempt to stuff the ballot boxes was launched well before the season even began. Considering this year's game is in Ottawa, some Maple Leafs fans (specifically a blogger from Pension Plan Puppets) had the idea to mock the Senators for their mismanagement over the years and to vote in all of the ex-Sens around the league. Names like Dany Heatley, Martin Havlat, Zdeno Chara and Marian Hossa -- each with a good shot to make the All-Star Game to begin with -- are the targets. Even Sens fans are getting behind it.
But the second, most recent campaign that has been launched is from the New York Rangers fan base. They want to see their shot-blocking extraordinaire defenseman Dan Girardi get an honor they feel he so richly deserves. Thus, the #VoteForGirardi hash tag was born.
The New York Rangers Blog has been the driving force behind the movement, begging all the Rangers fans to use up their 30-ballot allotment and do their best to get Girardi an All-Star nod.
Girardi was so far off the radar when the ballot was put together, Girardi isn't even on the list to vote from. If he is going to make the ballot, it will be on a write-in basis.
It's not all that surprising, but Girardi has the support of his coach John Tortorella in his All-Star worthiness.
"This league," Tortorella said. "It's because he's not pedigree. There's no pedigree there. Our league is so ass-backwards when it comes to that.
"It's not just this year that he's underrated. This guy has been a really good player, but if you don't have the pedigree in this league, they don't look at you."
I might say he's not in the running because defense isn't something that translates to All-Star status very well except in the case of goaltenders, but I digress.
The Girardi ballot snub got me to thinking: What is the best starting six you can build out of names that didn't make the ballot cut? Here's my write-in submissions.
Forwards
Tyler Seguin, Boston Bruins: No-brainer, right? The kid has been on fire and is two behind Phil Kessel for the league lead in goals scored. His plus-15 is also tops in the NHL.
Kris Versteeg, Florida Panthers: Nobody is talking about Versteeg, but he has to be in the conversation for biggest surprise. His 20 points (9-11=20) tie him for the fourth most in the league.
Johan Franzen, Detroit Red Wings: Hard to believe the Mule isn't on the NHL-generated ballot list, so he makes the cut here. Sixteen points in 16 games (9-7=16) and a plus-6 gets the third nod.
Defensemen
Girardi, Rangers: Considering this is the genesis of the idea, Girardi gets a spot. His 42 blocks are tied for the sixth most in the NHL. And his offense is showing this season with three goals and five assists in 16 games.
Jason Garrison, Panthers: Many people don't even know the Florida blueliner, but he leads all defensemen in goals scored with seven. His booming blast from the back has been a revelation for the Panthers.
Goaltender
Jimmy Howard, Red Wings: There are a lot of great candidates here (Brian Elliott, Jhonas Enroth, Mike Smith) but I give the nod to Howard based on the fact that he's been the best of the true starters (Elliott and Enroth have split) with a .935 save percentage and 1.69 goals against average.
How'd he make the list?
R.J. Umberger, Columbus Blue Jackets: Unfortunately, somebody has to be the standout face that makes you say huh? The token choices of Marc Staal and Sidney Crosby jump out considering neither has played a game this season. But I'm going to go with Umberger considering he has one goal and four assists and is a minus-6 in 17 games.
So do your civic fan duty and vote. Just don't forget about that write-in section!
Photo: Getty Images
For more hockey news, rumors and analysis, follow @EyeOnHockey and @BrianStubitsNHL on Twitter.