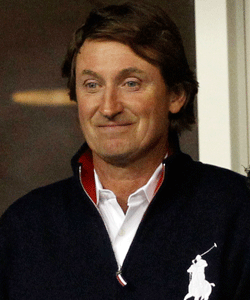 In the last two days, all of the Winter Classic news surrounded the roster for the Philadelphia Flyers Alumni Game roster. Eric Lindros: In. John LeClair: In. Mikael Renberg: Not so much.
But what about the Rangers side? The names like Mark Messier and Brian Leetch seem like givens, but the name everybody was hoping to see, Wayne Gretzky? It doesn't look promising on that front.
"No, I'll be with my family for the holidays," Gretzky told Pierre LeBrun of ESPN.com. "Plus, they don't need to see a 50-year-old slow guy out there!"
Gretzky is aware that the game has a lot of guys 50 and older, right? Even if he were 80 I think people would love to see Gretzky out there. The family reason, though? Hard to argue with that.
Now if this holds and Messier can't get in his old friend's ear, it does seem sort of right. After all, Gretzky did play a little in New York, but he's identified with the Oilers and Kings. In a way it would seem cheap to me to have Gretzky with the Rangers in an alumni game. He spent just the final three seasons of his career in the Big Apple. Not exactly the defining days of his career.
Still, I can only imagine that Gretzky would be the best player if he took part.
Photo: Getty Images