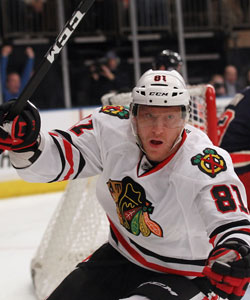 Hossa and the 'Hawks are about ready to return home. (Getty Images)
Weekend schedules: Friday | Saturday | Sunday
In case you didn't know -- and chances are you didn't -- this weekend is Hockey Weekend in America. Mostly it's a name attached to a normal weekend of games, but dammit it's Patriotic and I'll be a son of a gun if Old Glory doesn't get me pumped up for anything.
The weekend showcase will be the triple-header early Sunday in what has become the spotlight game of the week now that football is in hibernation until the end of summer. Your choices -- OK, NBC's choices to show you based on where you live -- are Sharks at Red Wings (yes please!), Blues at Blackhawks (I'll take that) and Penguins at Sabres (hey, it looked good at the start of the season). It wraps with a game at 3 ET on NBC Sports Network as the Bruins visit the Wild.
With no slight to that Blues-Blackhawks game back in Chicago (home sweet home, eh 'Hawks?) the Sharks-Wings battle is the one to really watch. For if the Red Wings are still riding their record win streak into Sunday -- a mighty big "if" with the Predators visiting the Joe on Friday night -- then this will be the biggest threat to date.
There aren't many teams that can say this, but the Sharks have had Detroit's number recently. They are one of the few teams who have won in Detroit this season, doing so way back before Halloween. Go back to the beginning of last season and the Sharks are 9-4 vs. the Wings, including the playoffs. That includes five consecutive wins in regular-season matchups.
Must be coach Todd McLellan still knowing a secret or two to beating his old squad.
So while the bout in Motown might be the best from an action standpoint and as far as NHL history is concerned, I argue the more meaningful game is the one in the Windy City.
It was such a massive relief for the Blackhawks to finally end their losing streak that had peaked at nine games. Against the Rangers, no less. That's not like ending the skid against the Blue Jackets -- their final stop on this massive road trip Saturday -- it's the type of win that can really signify that things are alright. Taking down the best team in the league in their barn? Talk about a slumpbuster.
A return to home ice will be nice. Think about how you feel when you walk back in your front door after a vacation. Now think of how great that feeling is when you've had about the worst vacation you can imagine.
Then again, it's not so great when you have a house guest like St. Louis sitting on your porch awaiting for you to let them in. The good news is they aren't the type of guest who trashes your place, they're respectful that way. They are just 10-12-3 away from Scottrade Center.
Extended metaphor aside, there's no better time than now for the Blackhawks to regain their footing. That would put an end to the ridiculously stupid Patrick Kane trade suggestions and allow them to safely put space between them and the playoff chasers in the West.
One thing to consider: Face-off will be at 11:30 local time to accommodate NBC's time slot. That's an awfully early wakeup call after so long away from home.
Southeast showdown Part V
The Florida Panthers and Washington Capitals will square off for the fifth time this season Friday night in Florida. Strangely enough, it's going to be the first time that Tomas Vokoun has started a game back in Sunrise, his former stomping grounds, and the first start against the Capitals period for Jose Theodore this season. It's a bit odd that the No. 1 goalies have only received two of the eight starts in this series so far this season.
It makes sense both starters get the nod on Friday. It's another massive night for these teams. If the Panthers can do what they have done twice already this season and beat the Caps at home, they'll move six points up on Washington in the division. That's a nice cushion when we're getting down to 25 games or fewer left this season. Not insurmountable, but nice.
This is the third time these two have met this month. The last meeting was a 4-0 whitewashing by the Capitals in D.C. Coach Dale Hunter referred to that as a playoff game before it began and the Caps make it look as such. Since? They're 1-3-1. By my count, that'd have them eliminated (from the mythical Feb. playoffs, folks).
The good news is that Mike Green might return for the Caps against the Panthers. He's stopped and started so many times this season you'd think he was driving on the Washington Beltway during morning rush hour.
There will be a lot of interesting things to watch for in the game, but one for me will be the intensity of the Caps. In their last visit to Florida, Karl Alzner explained away their poor start by the lack of energy in the building. A pretty soft excuse in a pivotal division matchup.
They can't afford to start slow again. The Panthers have been doing that a lot lately themselves and coach Kevin Dineen is determined to make that stop in such an important game.
Desert streaking dogs
Holy Coyotes that team is hot right now.
Perhaps it's been a push to help garner interest to keep them in Phoenix, I don't know, but the Coyotes have caught fire. Just when you were ready to bury them in the desert sand, they spring off a run like this. "This" would be six wins in the last seven games to get into the playoff seedings at the moment.
To further their standing in the, um, standings, they get their own pivotal matchup. The Dallas Stars, one of the plethora of teams on their heels outside of the playoff picture at the moment, come to the desert on Saturday night.
It's a classic "four-point game" for the teams battling in the West and Pacific Division. Here's hoping there's a better than normal crowd to watch it, should be close to a playoff atmosphere.
Keystone clash rekindled
The Flyers and Penguins will renew acquaintances again this weekend. It's the start of a stretch with a lot of meetings for the intrastate rivals.
It will be the first of four meetings for the teams from now until April 7, the final day of the season. No wonder the chirping between the fan bases has been mostly quiet this season, they have hardly met.
The importance here should be pretty clear. As of now they are jockeying back and forth -- and with New Jersey -- for that all-important fourth spot in the East, the only home-ice award that goes to a non-division winner. It's very possible that these four tilts, starting with the Saturday matinee, will decide that race.
Plus it's about that time of the season where the Flyers could really stand for Ilya Bryzgalov to heat up and carry some momentum into the postseason. He's back in action now after an illness and this is the type of game where it would be so big if he came up humangous big for the Flyers but unfortunately the kind we've come to expect a few bad goals this season.
Sibling rivalry renewed
Unlike the last time the Calgary Flames and Los Angeles Kings met, this one won't be about the coaches. Very much, at least.
Brothers Brent and Darryl Sutter this time get the undercard billing with another battle of teams at the bottom of the playoff picture out West.
After their own long road trip, you'd think coming home might be enough to jolt that putrid 2.07 goals per game number for the Kings. Well they were shut out by the Coyotes on Thursday night at Staples Center, so you can probably shoot that theory down. Fact is they haven't been able to score much anywhere, no matter if it's at home or not.
The way it stands going into the weekend, L.A. is clinging to the eighth spot out West and Calgary is right behind them. Pretty astonishing I think, but the Flames are still right there.
So you see, this one is about a lot more than a sibling rivalry.
We're going streaking!
Here are the streaks -- both good and bad -- headed into the weekend.
Red Wings: Considering they've been playing a lot at home recently and they have an NHL record win streak going, it's no surprise they've won four straight. Two toughies this weekend with Nashville and San Jose visiting.
Anaheim Ducks: In the midst of an eight-game road trip, the Ducks have run off three in a row. They head to the Southeast now and face the Carolina Hurricanes and Panthers.
Sabres: It keeps getting worse and worse. After seven unanswered goals against on Thursday, they now have a three-game skid. They have the Canadiens on Friday and Penguins on Sunday.
Capitals: Needing to go on a tear late like they have in recent seasons, the Caps are instead sputtering. They do the Florida double-header this weekend entering with a three-game slide.
Wild: Six-game skid ... and likely counting. A back-to-back at the Blues and vs. the Bruins doesn't figure to be the remedy. This weekend could all but officially bury their once promising playoff hopes.
For more hockey news, rumors and analysis, follow @EyeOnHockey and @BrianStubitsNHL on Twitter.