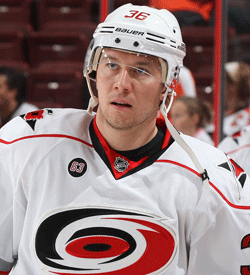 The Carolina Hurricanes have received little production from captain Eric Staal in the first 12 games. He has just two goals and three assists while sporting a horrid minus-12. Yet the 'Canes have picked up at least one point in eight of their 12 games so far. Jussi Jokinen is one of the reasons why, he is second on the team with nine points (behind Jeff Skinner's 12).
This is where the bad news comes in. Jokinen will be out at least three to four weeks after sustaining an injury in the third period of Tuesday night's win over the Tampa Bay Lightning. According to Chip Patterson of the News & Observer, Jokinen awkwardly twisted his left leg early as he fell back over the Lightning's Ryan Shannon.
"It didn't look good and it isn't good," GM Jim Rutherford said of the injury. "We'll know more after Jussi sees the doctor again today and the time could change. But it will not change to less time."
Yep, that's bad news alright. Especially the part where he says that the timetable for a return will only go up if it moves at all.
Jokinen has been a 50-plus point scorer in the last two seasons with the Hurricanes. He has become a critical part of their attack. Without him in the lineup, it will only further increase the need to get Staal back on top of his game.
Photo: Getty Images
For more hockey news, rumors and analysis, follow @EyeOnHockey and @BrianStubitsNHL on Twitter.