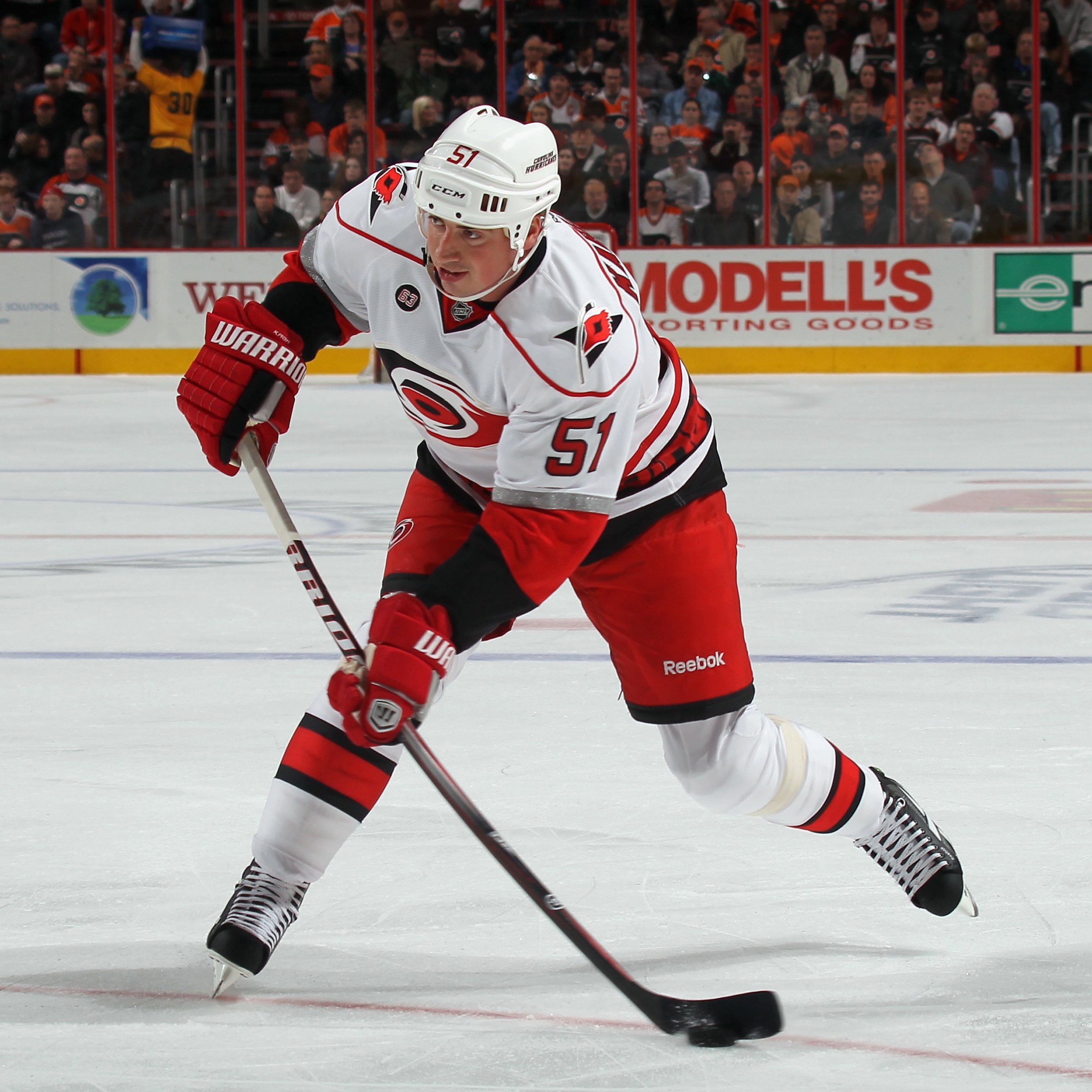 By: Adam Gretz
The slow start for the Carolina
Hurricanes
has resulted in a change behind the bench
with Kirk Muller taking over for Paul Maurice earlier this week, and it could soon lead to some changes on the blue line if free agent acquisition
Tomas Kaberle
doesn't start to play better. That's the message general manager Jim Rutherford sent on Wednesday evening
when he appeared on XM Home Ice
and was asked about the slow start for his big offseason addition.
When asked if he's seen anything that makes him think Kaberle, who signed
a three-year, $12.75 million contract
over the summer, can return to the level of play he demonstrated throughout his career, mainly with the Toronto
Maple Leafs
, Rutherford was brutally honest.
"He hasn't played up to what we would have hoped he would play," said Rutherford. "He came into camp and he didn't prepare himself properly. He came in like the Boston
Bruins
did, they won the Stanley Cup, he enjoyed his summer and quite frankly he hasn't caught up."
"He's still a real good player," Rutherford continued. "I don't know what's going to end up happening with him here now cause we have the young kid, [Justin] Falk, the 19-year-old that we're real happy about. We like young players like [Derek] Joslin, and he may very well get lost in the shuffle here and I don't know where it goes from there. I know there are some teams that are interested in him but they're not quite sure they want to take on all the money so that becomes a little more complicated. But he got off to a slow start, totally by his own doing, and now he has to figure out a way to get out of it or he won't be playing with the Hurricanes long."
The veteran defenseman has struggled so much this season that he was a healthy scratch during the team's 4-3 loss in Ottawa on Sunday.
In 25 games this season he's yet to score a goal and has been credited with just five assists. Throughout his career he's typically been a 40-50 point producer over 82 games, with a career-high of 67 during the 2005-06 season. Last season, which he split with Toronto and Boston, he scored four goals to go with 43 assists during the regular season and added 11 assists in 25 playoff games for the Stanley Cup winning Bruins.
Photo: Getty Images
For more hockey news, rumors and analysis, follow @EyeOnHockey and @agretz on Twitter.