PROGRESS IN MOVING: In addition to getting the OK to on changes to the net and a goal verification line yesterday, the Board of Governors also opened up the discussion on realignment for next season. In order to prepare the schedule, they will need to make a decision by December. "Obviously we have to make arrangements to move Winnipeg west, and we had an opportunity to explore the issues," Commissioner Gary Bettman told NHL.com. "No conclusions were reached, but it's something I'm hopeful we can resolve at the December meeting."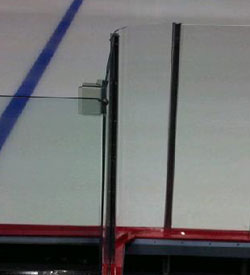 NOT SO SHARP GLASS: With Zdeno Chara's check of Max Pacioretty into the stanchion in Montreal as the impetus for change, the glass at the Bell Centre has a new look to it. Instead of the sharp, 90 degree angle it was at before, it instead is rounded off, hoping to avoid another ugly incident. (@habsinsideout1)

STARTING OVER: Things hardly went well for Sheldon Souray in Edmonton, flaming out at the end of his career with the Oilers. But this offseason saw him make his way to the Stars where he gets another chance. "It's not about finding extra motivation to go out and prove other people wrong. It's about proving myself right." (Montreal Gazette)

SOCIAL STUDY: The reactions continue to come in from players about the new social media policy the NHL adopted earlier this month. Numerous players on the Predators don't have any problems with it, helping to prove it was more of just a formality than anything Earth-shattering. (Puck Scene)

IS REIMER READY? It's a fair question to ask. The Toronto Maple Leafs are handing the torch over to their young goaltender for the start of this season. Nicholas J. Cotsonika takes a look at whether or not James Reimer is the real deal in Toronto or not. (Yahoo)
NHL'S TRIBUTE: The NHL has put together a video tribute that is being played before some of the preseasgon games, paying homage to all of the former NHL players who died this summer, including Wade Belak, Derek Boogaard, Rick Rypien and all of those in the KHL plane crash. (On the Forecheck)
For more hockey news, rumors and analysis, follow @EyeOnHockey and @BrianStubitsNHL on Twitter.