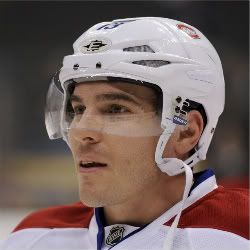 By: Adam Gretz
Just when you start to think the Montreal
Canadiens
have hit rock bottom on the season, it just finds a way to keep getting crazier. And crazier. And crazier.
The latest development: Forward
Mike Cammalleri
being traded to the Calgary
Flames
on Thursday night after he was pulled during the third period of the team's 2-1 loss in Boston.
The deal involves Cammalleri, goaltender Karri Ramo and a fifth-round draft pick going to Calgary in exchange for
Rene Bourque
, Patrick Holland and a 2013 second-round draft pick. This, of course, will be Cammalleri's second stop with the Flames after having spent 2008-09 season in Calgary, producing what was the best season of his career with 39 goals and 82 points in 79 games. He signed with Montreal after that season, inking a five-year, $30 million contract.
Said Flames general manager Jay Feaster in a team released statement on Thursday, "Mike Cammalleri is a dynamic player who enjoyed great success playing in Calgary. We believe Cammalleri will help our offensive production, solidify a second scoring line, bolster our power play, and bring another strong veteran voice to our room. We are confident that a return to Calgary will be good for Mike and good for our continued pursuit of a playoff berth."
The "strong veteran voice" comment is certainly interesting, seeing as how his "voice" has to be one of the reasons he was even on the market in the first place. Cammalleri's name was in the news earlier on Thursday for some controversial remarks about his team and the way they prepare for games. Less than 24 hours later? He's gone.
Following Thursday's loss in Boston, the Canadiens are now 16-20-7 on the season and seven points out of the eighth and final playoff spot. The team has already fired two coaches this season, dumping assistant coach Perry Pearn in the first month of the season, and then replacing head coach Jacques Martin last month. The latter was a move that has resulted in the entire organization facing criticism from a vocal minority of fans that are unhappy Martin's replacement, Randy Cunneyworth, doesn't speak french.
Add in the Cammalleri storyline, both his comments and the ensuing trade, and it's been total chaos.
At the halfway point of the season Cammalleri had been struggling this season and had scored just nine goals in 37 games.
Bourque is obviously the key part of the trade for Montreal, and his name had been coming up in trade rumors for what seems like two years now. And while he's a solid player having scored 27 goals in each of the past two seasons, and on pace for nearly the same number this season, it's hard to argue that the Canadiens are a better team after this move (even though Montreal general manager Pierre Gauthier tried to do just that when announcing the move).
Really, the only benefit Montreal gets is that it dealt a player that made some comments the team didn't like, and saves a few million in salary cap space over the next couple of seasons. Cammalleri's contract still has two years remaining on it with an average salary cap hit of $6 million per season. Bourque is signed through the 2015-16 season and has an average salary of $3.3 million, giving Montreal a savings of about $2.7 million per year.
The Flames entered their game on Thursday night against Anaheim four points out of the eighth playoff spot in the Western Conference.
Bourque is currently suspended for his elbow to the head of Washington
Capitals
forward
Nicklas Backstrom
. It should be noted that the Canadiens, Bourque's new team, play the Capitals on Wednesday, and he will be eligible to play that night.
Photo: Getty ImagesFor more hockey news, rumors and analysis, follow @EyeOnHockey and @agretz on Twitter.