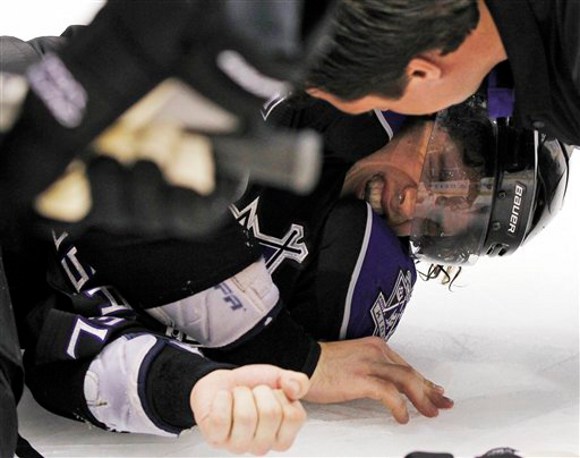 Los Angeles
Kings
forward Azne Kopitar will reportedly undergo surgery to repair torn ligaments caused by a high ankle sprain suffered Saturday against the Colorado
Avalanche
.
Coach Terry Murray initially told reporters that Kopitar had a broken ankle that would keep the Kings' top scorer out six weeks. (Here's a
look at the play where Kopitar was injured.
) The diagnois apparently changed after an MRI Monday revealed more damage that will keep Kopitar off the ice until the middle of the summer, according
Rich Hammond of lakingsinsider.com
.
Surgery is scheduled for Wednesday.
"It's just going to be a good test for this young hockey club," Murray told the website. "We'll be better when we come through it. There's no question about it. Guys are going to be in a higher situation, more important situation, and they'll grow immensely through this opportunity."
The Kings are already without
Justin Williams
, who could miss the rest of the season
after he separated his shoulder a week ago
. That leaves the Kings minus their two top scorers heading into the stretch run.
-- A.J. Perez
Photo: Associated Press