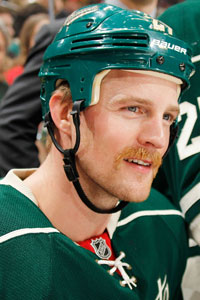 Brodziak is on his way to a career high in goals this season. (Getty Images)
It was a good day in Minnesota all around.
The Wild celebrated Hockey Day in America with a big shutout win over the Boston Bruins in NBC's marquee game. It was the first time since 1975 Minnesota had a regular-season game broadcast nationally on network television. Both goals were actually scored by Minnesotans and Niklas Backstrom was oustanding with 49 saves.
They kept the good vibes going after the game by announcing a three-year contract extension for center Kyle Brodziak. Michael Russo of the Minneapolis Star Tribune reports the contract is for $2.83 million per season.
"I'm really happy," Brodziak said. "Just happy it's done with and now I can concentrate more on playing hockey.
"My goal as a player is to keep getting better every year. There's definite belief in this organization. I want to be part of building it into a winning team. The culture is changing around here and I just want to be part of the future and helping to turn this around into a winning club."
This season Brodziak has 15 goals and 14 assists in 58 games. He's one shy of his career high in goals. One of the great things about Brodziak if you're going to make a three-year investment is that he's very durable. In his four previous full seasons he has played in 79 or more games each season.
Not too bad for a seventh-round draft pick by the Oilers back in 2003.
More fro Eye on Hockey
Wild's Peters suspended one game
For more hockey news, rumors and analysis, follow @EyeOnHockey and @BrianStubitsNHL on Twitter.