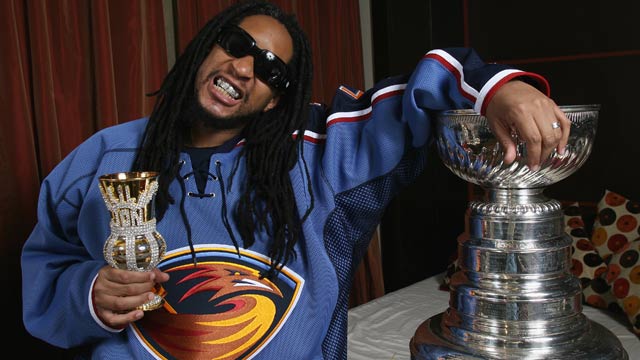 We've had Tom Glavine. There's been the mysterious "Balkan." Former player Anson Carter, now in the music and apparel business, entered the picture, too.
Now add the names Lil' Jon and Jerry Bruckheimer to the list of potential owners to keep the Thrashers in Atlanta? According to the Atlanta Business Chronicle, that's exactly what you should do.
The latest talk swirling around the financially ailing Atlanta Thrashers has the team possibly staying in Atlanta courtesy of – wait for it – Atlanta hip hop artist and producer Lil' Jon and big-time film and TV producer Jerry Bruckheimer, reports Atlanta Business Chronicle broadcast partner WXIA-TV.
The Atlanta-based rap mogul and movie producer would make for an interesting pairing and would certainly have the money needed to back a franchise that was valued at $135 million by Forbes. And while Lil' Jon might seem like an odd choice to own a team on the surface considering he can be found courtside at almost every Miami Heat game played this season, he is an avid hockey fan, saying in the past how much he enjoyed watching the Atlanta Flames playing back in the day at the Omni.
At this point, I'm wondering who will be next? Either way, the time is running short if Atlanta wants to stay in town. It's gotten to the point where NHL deputy commissioner Bill Daly won't guarantee the Thrashers will stick around, a rather damning statement at this point considering how adamant Gary Bettman and the NHL were in the Coyotes not emmigrating from Phoenix.
-- Brian Stubits