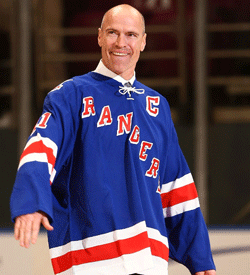 So far, almost all of the attention on the Winter Classic Alumni Game has centered on the Philadelphia Flyers. The Legion of Doom? Two of the three are playing at least. Just this week, former Flyers goalie Bernie Parent said that he'll be playing for the black and orange.
But what about the New York Rangers? Who is Mike Keenan going to be coaching?
Well the obvious became official on Thursday. The Rangers announced that their old captain and one of New York's more revered sports Stars, Mark Messier, will be playing for the Blueshirts on Dec. 31.
To see the full Rangers alumni roster as of this point, you can find it here.
We were all waiting for Messier to commit, but not with a lot of suspense. There was little doubt that Messier would eventually commit to playing. Now everybody wants to know if he'll commit to guaranteeing a win in the game like Rangers GM Glen Sather did about the one contest that will matter.
The Alumni Game is obviously just a show for the fans, nothing more than a little throwback fun. So it's great to see Messier confirming his spot. His presence is always welcome for Rangers fans.
Plus, he should be in excellent shape for the game. He just ran the New York Marathon at the beginning of November.
Photo: Getty Images
For more hockey news, rumors and analysis, follow @EyeOnHockey and @BrianStubitsNHL on Twitter.