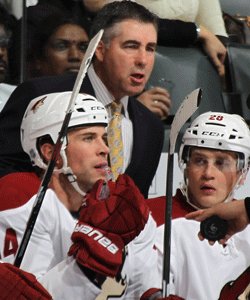 By: Adam Gretz
This is Dave Tippett's ninth year as a head coach in the NHL.
During that time he has missed the playoffs just once, and as recently as a month ago it looked like this season just might in fact be the second time.
After a 2-1 shootout win over the Vancouver
Canucks
on Tuesday night, it not only looks like his Phoenix
Coyotes
are going to make a third straight postseason trip (all under Tippett's watch), but they're currently in first place in the Pacific Division thanks to a performance in February that saw the Coyotes go 11-0-1, with the only loss coming in a shootout in Vancouver back on Feb. 13th.
That also happened to be the only game during the month that goaltender
Mike Smith
did not start, and he pushed his personal winning streak to 11 games with a 39-save performance against the Canucks on Tuesday.
Smith, without much fanfare, signed to a two-year, $4 million contract on July 1 to join the Coyotes, and he has more than filled whatever hole was left by
Ilya Bryzgalov
when his free agent rights were traded to the
Flyers
over the summer. His numbers are almost identical to what Bryzgalov put up during his time in Phoenix, while Bryzgalov's production has completely fallen off the map in Philadelphia.
Is it the system? Perhaps. When I spoke to Smith
before the season
, shortly after he signed in Phoenix, he pointed out how Tippett's defense-first system was attractive and very friendly to goaltenders (keep in mind, Smith played under Tippett for a brief time in Dallas). But right now Smith is simply in a zone and is making every key save the Coyotes need him to make as they continue to grind out wins and chug along against all odds, completely shutting down every opponent they face. That includes the stop Smith made on
Mason Raymond
during Tuesday's shootout, stopping his spin-o-rama attempt in the second round (starting at the 2:18 mark of the video below).
It's a move that some goaltenders believe is nearly impossible to stop, but Smith simply did not flinch.
During the month of February the Coyotes allowed just 17 goals (not counting "team goals" from shootouts) in 12 games. That includes two shutouts and
eight
games where they allowed just one goal. What is most impressive about their performance in February is that it came against quality opponents nearly every night. They played just one team with a losing record (Edmonton), and had multiple games with Vancouver, Los Angeles and Calgary, and also knocked off Deroit, Chicago and San Jose. As far as Vancouver and the latter three are concerned, those aren't exactly lightweights in the NHL.
For the month the nine different opponents they faced had a combined record of 262-185-58, and the Coyotes rolled right through them.
After being one of the worst teams in the league in January, they were the best team in hockey in February, and it's put them right back in the thick of the Western Conference playoff picture.
Photo: Getty ImagesFor more hockey news, rumors and analysis, follow @EyeOnHockey and @agretz on Twitter.