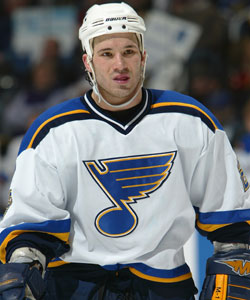 Mike Danton, the former St. Louis Blues and New Jersey Devils forward who was incarcerated for admitting to conspiring to hiring a hit man, is playing overseas in Sweden these days. In his team's season opener this weekend, he played a massive role.
With the game more than half-way through the final period, Danton's line mate Marcus Bengtsson (nicknamed the Vanilla Gorilla and also called Bangan) and best friend on the team took a hit that sent him to the ice, then into a seizure. Having spent five years in prison, he saw his fair share of seizures and thanks to the certification in first aid he earned while locked up, he did his part to help Bengtsson.
Danton recounted the entire scene on his blog in great detail. Be warned there is a little use of colorful language in the form of expletives.
His tongue, I thought. S---, he is going to choke on his tongue. I tried to open his mouth, but to no avail. Also, I did not want him to fall unconscious, so I began to slap him fairly hard in the face. The way I looked at it was that I owed him that for the direct hit to my head in paintball last weekend. Max and Roger were holding the Gorilla down with all they could. As his eyes continued to roll into the back of his head, his mouth finally opened a bit. It was at that time that I jammed my fingers into his mouth and clawed his tongue. While I did that, Max and Roger tilted Bangan on to his side to keep his tongue and blood from sliding into his throat. It was at that time that I felt the strength of the Gorilla's jaw clamp down on to my fingers. I ripped them out before I lost them.
The post goes on from there, but the ending is a happy one. After six or seven minutes of convulsing, Bengtsson stopped and was eventually taken to the hospital where he couldn't recall any of the actions that put him there. But Danton could, and did.
Whether or not Danton did the right thing (I am no medical expert) can be debated, but all of his actions were intended to help his teammate and friend in an emergency situation.
As Danton points out, there have been too many tragedies in hockey recently. Thankfully, he was able to at least help prevent another from happening.
Photo: Getty Images
For more hockey news, rumors and analysis, follow @EyeOnHockey and @BrianStubitsNHL on Twitter.