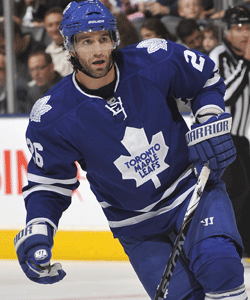 Mike Zigomanis, the former Pittsburgh Penguins Stanley Cup winner, now plays for the Toronto Marlines, the Maple Leafs' AHL affiliate. Unfortunately for him, he's making more news off the ice than he is on it.
Well, he's actually not the one making the news. Instead it is of somebody else's doing.
You see, there is this website where jilted and jaded exes are able to post nude pictures of their former lovers for everybody to see. It's the ultimate definition of spite for spite's sake, a move that would make high-schoolers cringe (while simultaneously giggling).
Recently, photos of Zigomanis made their way onto this site with him fully clothed. It was followed by a couple more of him in his birthday suit. Or was it? The nude photos are from the shoulders down, so there's no telling if it is actually Zigomanis or not. He says they're not. He's so strong in his conviction that he has hired a lawyer to help clear up matters.
"Ziggy assures us that the clothed photos are of him, and were purloined off his Facebook account," Leafs general manager Brian Burke told QMI Agency/SLAM Sports. "He also assures us that the nude photos are not of him. He has retained a lawyer to help him put an end to this."
"Sadly this is one of the few downfalls of being a pro athlete False statements," Marlies coach Dallas Easkins tweeted on Wednesday. "Pictures are common. Attempted identity thefts are picking up."
I don't want to get much into the legal aspects of the international nature of this. If you feel so inclined, check out the link above.
Instead, apparently it's time for the monthly reminder to athletes to be careful of what pictures you are taking. That's not to say this is Zigomanis in these pictures, I haven't the slightest idea (although I'm sure he has 20 some-odd witnesses who could tell you if that's him or not).
But I just can't get the idea out of my head of this going down like the "tallywhacker" scene in Porky's.
Photo: Getty Images
For more hockey news, rumors and analysis, follow @EyeOnHockey and @BrianStubitsNHL on Twitter.