Is there anybody in hockey happier to be done with the terrific month that is Movember than Anaheim Ducks goalie Jonas Hiller?
Despite having an awesome mask that was rivaled only by the one worn by Tim Thomas, Hiller was dreadful in November. Really, he was no different than his teammates in Anaheim. But Hiller's struggles were particularly strong, so a new month brings about a new chance with a new coach.
And a new mask.
His mustache mask is gone through a charity auction, so a new mask has to come. In its place is not his old mat black cage but instead the new Wild Wing design. Next to having a Darkwing Duck motif, this is pretty much one of the better designs he could have produced.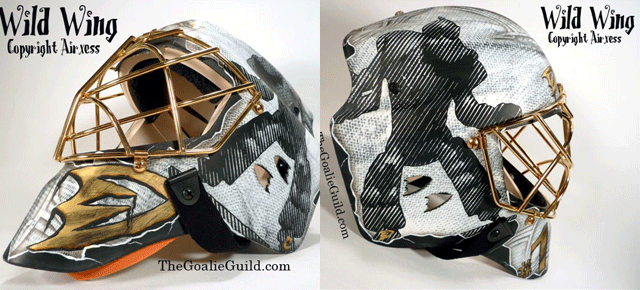 Here is a description of the mask from The Goalie Guild. I highly suggest reading the entire story, it's a fun description that does the mask complete justice.
With the power to create a new superstition on [designer Alec] Voggel's fingertips, he knew the moment was just right. It was time to reverse and transform Hiller's famine into fortune by unleashing the latest mask in a line of legendary Anaheim Ducks designs: Wild Wing.

Instead of paying homage to his teammates, Hiller is now honoring the official Ducks mascot. As you can see, he's striking quite the intimidating pose on either side of the mask, breaking out from underneath the shards and remnants of Hiller's old "Batman" black-matted mask.

With the moonlight now splashing over the mask, it reveals another job performed to perfection. It is complete. It has been revealed. Off to sleep, just one last task to complete before the moonlight wanes and the fresh sunlight of a new day spills out from behind the distant mountains.
It's even 3-D from afar.
What's your opinion?
Photo: Airxess.ch, courtesy of The Goalie Guild
For more hockey news, rumors and analysis, follow @EyeOnHockey and @BrianStubitsNHL on Twitter.