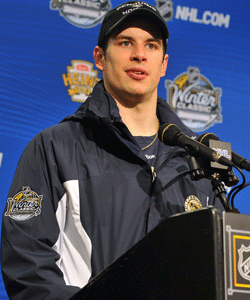 The world was waiting for Sidney Crosby's return to come this weekend. The media flocked to Pittsburgh for the long-awaited day to come. Eye On Hockey blogger Adam Gretz was on stand-by (he'll still be at the game on Friday).
Alas, arguably the game's biggest star will not lace them up against the Stars on Friday, or the Hurricanes (in Carolina) on Saturday.
Yes, the home game on Friday Nov. 11 was the one everybody was predicting for his return. Signs were pointing to it. GM Ray Shero said in an interview before the Penguins went on a long road trip that he wanted Crosby to return on home ice. He had been practicing and reportedly doing well with the contact he was receiving. Pens beatwriter Josh Yohe put the odds at 2/1 Crosby would return for this game.
So if Crosby is out (which he is, coach Dan Bylsma announced as much on Thursday) the question everybody moves onto next is when? Well, a quick glance of the schedule shows a home game on Nov. 15 against the Avalanche. After that the Penguins don't play at home again until the week of the Thanksgiving when they have a three-game homestand.
Judging by the way Bylsma is still not putting a timetable on Crosby's return and insists it's up until the doctors clear him, my guess is that the Tuesday game is a no-go, too. My best bet would be the three-game homestand starting on Nov. 21 with the Islanders. But with Crosby being essentially day to day after this long struggle with post-concussions symptoms, it will be a guessing game every day.
Meanwhile, I hope this doesn't deter fans from tuning into the game anyway. This will be one of the best matchups of the weekend as the top teams in each conference face off. And for those media members still around for the game, there's always James Neal vs. Dallas.
Photo: Getty Images
For more hockey news, rumors and analysis, follow @EyeOnHockey and @BrianStubitsNHL on Twitter.