By: Adam Gretz
MINNESOTA SENDS SHEPPARD TO SAN JOSE
For the third time this summer the Minnesota
Wild
and San Jose
Sharks
completed a trade, with the latest one being a relatively minor transaction. On Saturday night the Wild sent forward
James Sheppard
to the the San Jose Sharks in exchange for a third-round draft pick in 2013
. Sheppard was the ninth overall pick in 2006 and has been a disappointment thus far, having scored 11 goals in 224 NHL games.
DID THE FURRIES BREAK SOME NHL NEWS REGARDING THE 2012 DRAFT?
Word has quickly spread over the past couple of weeks that the 2012 NHL Entry Draft could be held in Pittsburgh, and this past week the rumors managed to take a turn for the absurd. Ryan Kennedy of The Hockey News
points out that the rescheduling of a Furry convention
(you know, the people that dress up like animals), which was supposed to take place in Pittsburgh the same weekend as the NHL Draft, could be a sign that the draft is returning to Pittsburgh for the first time since 1997. The city asked the Furries to reschedule due to an opportunity to host a rare event its wanted to host for several years, which is assumed to be the NHL Draft. IceBurgh would approve.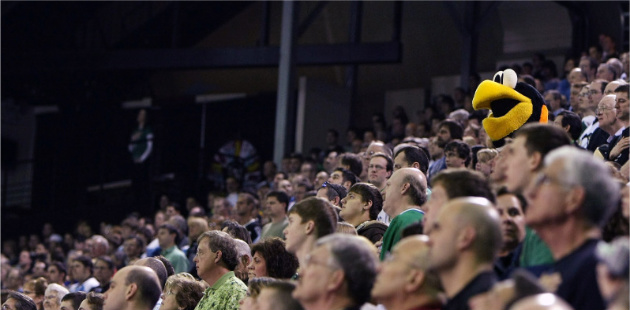 LEBDA HITS THE WAIVER WIRE
According to Nick Kypreos of Sportsnet
, the Nashville
Predators
placed defenseman
Brett Lebda
on unconditional waivers on Saturday, perhaps so they can buy him out. Lebda spent last season with the Toronto
Maple Leafs
where he scored one goal in 41 games, and was traded to the Predators, along with forward Robert Slaney, this summer in a deal that sent
Matthew Lombardi
and
Cody Franson
to Toronto.
WHEN GLOBAL ECONOMICS AND HOCKEY COLLIDE
In case you were wondering how the S&P's downgrade on US debt could impact the NHL (don't be afraid to admit it, you know you were asking),
Dirk Hoag of On The Forecheck has some possible answers
. Interesting read.
Photo: Getty Images
For more hockey news, rumors and analysis, follow @cbssportsnhl and @agretz on Twitter.