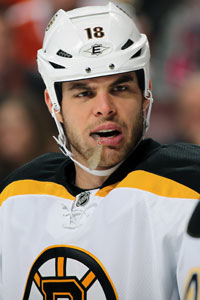 Horton is dealing with his second concussion within one year. (Getty Images)
When Nathan Horton was concussed last year, he didn't seem all that worse for the wear. Sure, he missed the last four games of the Stanley Cup Finals, but he reported not feeling bad by the time the series was done and the Bruins were champs.
He felt good enough to travel with the team and bring the Bruins some good luck.
This most recent concussion, though? Doesn't seem to be going as smoothly.
Horton has been out of the lineup since Jan. 22 thanks to a hit from Tom Sestito of the Flyers. The B's have been taking his recovery slowly, obviously in no rush to get him back right away. That's one of the benefits of the cushion they have, not to mention the depth.
Unfortunately, even with their cautious approach, Horton suffered a setback on Friday after trying to take to the ice for a solo skate.
"He's been pulled back," coach Claude Julien said. "He's got some symptoms. So we've pulled him back. It's hard for me to come out every day with a step forward, step backward. He's back to square one. We're giving him some time here. Those symptoms, once he got on the ice, came back."
As for what those symptoms are? The usual things you'd associate with a concussion, headaches chief among them.
This is the fickle nature of concussions. Even when you seem to be doing things the right way and taking it slow, you can revert right back to square one, as Julien puts it. The same happened with Nicklas Backstrom of the Capitals.
Read into this what you will, but since Jan. 22 the Bruins are just 2-4-0. In three of those six games less than two goals, twice being shut out.
Before the concussion, Horton had 17 goals to go with 15 assists on the season playing on the top line.
For more hockey news, rumors and analysis, follow @EyeOnHockey and @BrianStubitsNHL on Twitter.