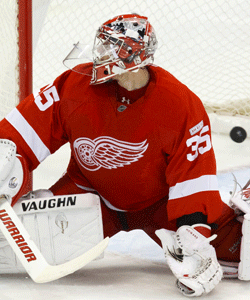 It's amazing how quickly things can go from being so hot to being so cold. I mean 72 days for a marriage? That's a quick flameout.
Oh, and there are also those Red Wings from Detroit. Just two weeks ago, the NHL eyes were locked on a battle of the unbeatens; 5-0 Detroit at 6-0 Washington. Fast-forward to Friday and the Red wings have picked up one single point since, sitting now at 5-5-1.
In this six-game losing streak it hasn't been what we figured would be the team's Achilles' heel -- defense - that has let them down. I mean it could be much better -- it could ALWAYS bet better -- but it's sufficed, even if Jimmy Howard has slumped a little, too.
Instead, it's been the offense, the unit that carried the team a season ago. During the six-game losing streak, the Wings are averaging exactly one goal per game. Once they scored two, once they were shutout, the other four games they scored once. That means Detroit has the second-fewest goals in the NHL -- incidentally still six clear of the last-place Islanders, who have scored just 18 goals in 10 games.
At that kind of scoring clip, the Red Wings were lucky to even pick up one point.
"We've got to believe in ourselves, stay positive," Henrik Zetterberg told Helene St. James of the Detroit Free Press. "Here we go again -- same quotes, but there's nothing else we can do."
We can chalk some of that up to bad luck, though. Detroit is carrying a shooting percentage of 6.2 percent right now. As Jesse Spector of the Sporting News points out for comparison's sake, the Devils were at 7.3 percent last season for the worst in the league.
Statisticians will tell you shooting percentage is more a byproduct of luck than anything else. The Wings are too talented to shoot at that low of a level for the season. These things do even out. If you believe they will continue to shoot that low of a percentage this season, I have some beach-front property in Nebraska to sell you. Real cheap, too.
Maybe Ken Holland crossed a black cat's path sometime just before Halloween or something. Seven games of bad luck, perhaps?
If the streak stretches to seven, it will have to come at the expense of the similarly struggling Anaheim Ducks on Saturday night. The Ducks themselves enter on a nasty little losing streak, having lost four in a row, the last two in overtime.
As they say, something's gotta give.
Lucky Seven
The opposite of the Red Wings and their six-game losing streak? Try the Edmonton Oilers and their six-game WINNING streak. (Boy, the NHL standings look awfully wacky right now ... can it last?) The last time the Oilers won six in a row? You have to go back to 2002.
They will have a chance to run that streak to seven on Saturday when they visit the Coyotes.
It's a homecoming of sorts for Nikolai Khabibulin, who is back to being the Bulin Wall. He spent a couple weeks in jail back in Arizona for a DUI offense. Who knows what kind of impact that might have had on Khabibulin, but he's been spectacular.
He was deservedly named one of the NHL's three Stars for the month of October. He has been maybe the biggest surprise of the season from an individual standpoint. He is still averaging less than a goal per game (0.98) in GAA and has a spectacular .963 save percentage.
Just like Detroit's shooting percentage, you don't need a genius to tell you that's not going to last. Still, for a guy that people felt was going to be as useful as an empty Twinkie wrapper, this qualifies as outstanding.
He will have a chance to keep his stats low for another night, though. Considering the Oilers and Coyotes are two of the lowest-scoring teams in the league, a 2-1 battle or so is probably in store. Of course, now that we mention it, the game will more likely be a 7-5 breakout.
Speaking of bad shooting percentages ...
Remember that start the Colorado Avalanche had? The one where they were 5-1-0 and the early talk of the NHL? Yes, life on the road was nice.
Well home has not provided very friendly confines. At all.
The Avs are 1-4-1 at home while still 6-1-0 on the road. Since you are clever readers, I'm sure you know where this is going ...
Colorado is at home for the weekend capper on Sunday evening when it hosts the Calgary Flames. The key to getting on the right track at home? Again, we return to the that luck theme.
In their home games, the Avalanche have a 3.8 -- 3.8!!! -- shooting percentage. Either they continue to shoot directly into the opposing goalie's chest, or things just aren't going their way.
More starting trends
One more shooting percentage trend and then that's it, we promise.
Here are two reasons not to go all in on the Toronto Maple Leafs quite yet. First, their shooting percentage is unusually high at 12.9 percent as a team. Secondly, Toronto is actually being outshot by an average of five shots per game. They are in first place in the Northeast.
On the other hand, the Bruins are plus-five in shots per game and they are in last place in the Northeast.
The means exist for a reason. Teams usually regress toward the mean over the course of a season. Of course, in the meantime these trends are still being bucked.
Now the table is set for their showdown on Saturday in Toronto. By the way, Phil Kessel is still on pace for that monster season with 10 goals and 11 assists through 13 games.
Net issue
Very quietly there is the rumblings of a goaltending controversy in Buffalo. Like we said, very quietly.
Backup Jhonas Enroth has been very solid in his backup work of Ryan Miller, including the relief appearance earlier this week against the Flyers. In that game, Enroth held the Flyers scoreless for the majority of the game after Miller was pulled early in the first period with three quick goals.
It comes as little shock then that Lindy Ruff is going to start Enroth on Friday night with the Calgary Flames in town. Ruff is electing to start the hot goalie and likely trying to flip Buffalo's fortunes at home.
Like the Avs, the Sabres aren't finding home so nice in the early going. They are 2-4-0 at the First Niagara Center or whatever they call the arena these days.
The champs are here!
That would be baseball's champions, the St. Louis Cardinals.
Friday night in St. Louis will be a chance for the Blues to honor their winning neighbors.
Chris Carpenter, the Cards' ace pitcher, practiced with the team this week. In case you missed it, it was brought up countless times during the playoffs that Carpenter played hockey growing up.
Also, now ex-Cardinals manager (retirement) Tony La Russa will drop the ceremonial puck before the Blues face the Canucks. The Blues would love it if some of that winning magic can rub off on them as the Blues enter having dropped their last two games and are a quiet 5-6-0.
Photo: US Presswire
For more hockey news, rumors and analysis, follow @EyeOnHockey and @BrianStubitsNHL on Twitter.