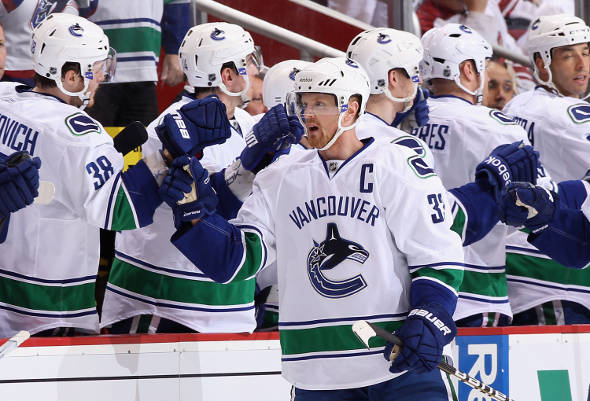 WHO CAN CLINCH:
The Vancouver
Canucks
will become the first team to clinch a playoff berth (via securing the Northwest Division title) by earning at least one point tonight against the Colorado
Avalanche
.
GAME OF THE NIGHT:
Toronto
Maple Leafs
(30-30-10) at the Carolina
Hurricanes
(32-28-10), 7 pm ET.
The Maple Leafs could all but call off their bid to return to the postseason for the first time in since before the lockout with a loss tonight. Losers of four of their last five entering tonight's contest at RBC Center, Toronto would slip to 12th in the Eastern Conference and fall to six points back of eighth-place Buffalo if they don't manage to secure at least a point.
The Hurricanes are coming off 1-0 victory over the
Sabres
, Carolina's first road win in a month, and could pull even with Buffalo (76 points) with a victory. (Buffalo would remain in eighth since it has a game in hand, thus a better winning percentage.)
Cam Ward
made 44 saves against the Sabres on Tuesday as he made
Brandon Sutter
's goal late in the first period hold up.
ALTERNATIVE VIEWING:
Washington
Capitals
(41-20-10) at Detroit
Red Wings
(41-20-8), 7:30 pm, Versus.
There are only four games on the schedule tonight, but Versus will broadcast what should be a high-powered contest against two of the best teams in NHL. The Caps enter on a nine-game winning streak and we'll get to see two Russian buddies, Washington's
Alex Ovechkin
and Detroit's
Pavel Datsyuk
, go head to head.
GOLF WATCH:
Edmonton
Oilers
have been mathematically eliminated.
PLAYOFF TRACKER
-- A.J. Perez
Photo: Getty Images