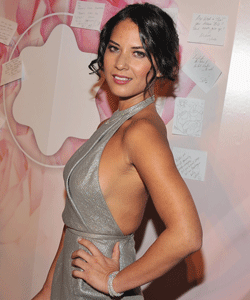 Honestly, I dislike writing these posts as much as most of you dislike reading them, if I'm to judge by the comments. Yet people click on them.
But this one? It's justified from a hockey point of view. So 3 ... 2 ... 1 ... gossip!
New York Rangers new star Brad Richards is discovering the perks of playing in New York as he has reportedly begun dating actress Olivia Munn. If you are as out of touch with most of the gossip and acting world as I am, I submit Miss Munn's IMDB profile for your perusal.
Here is what the gossip site Just Jared had to say about the two.
"Brad and Olivia have been dating a couple weeks," JustJared.com overhead a Madison Square Garden rep say.
As a personal note, that just made me feel slimier.
But here's where the actual hockey tie comes into play. Since the two began dating, the Rangers have gone 6-0-0. And here I was crediting that streak to the split of Richards and Marian Gaborik. Well if that's how things are going to go, I'm sure the Rangers fans are waiting on pins and needles for Brad to propose already.
Munn joins a list of hockey WAGs (wives and girlfriends) that has plenty of star power, including Carrie Underwood (Mike Fisher), Hillary Duff (Mike Comrie) and Elisha Cuthbert (Dion Phaneuf).
By the way, found another justification for this entry: getting to post a picture of Olivia Munn.
Photo: Getty Images
For more hockey news, rumors and analysis, follow @EyeOnHockey and @BrianStubitsNHL on Twitter.