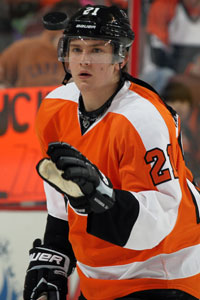 JVR has 11 goals and 13 assists this season in 43 games. (Getty Images)
James van Riemsdyk is having a tough season in Philly. It was made tougher on Friday when the team announced that he is going to miss the next 4-6 weeks with a broken foot suffered when he blocked shot on Thursday.
"James will have surgery on Mar. 6 to repair a broken bone in his left foot," general manager Paul Holmgren said in a team release. "Dr. Steven Raikin will put a plate in to help with the healing process. James will be out 4-6 weeks."
Last summer after the Flyers traded away franchise pillars Mike Richards and Jeff Carter, they had a lot of reshaping to do with the team. Part of that was getting players to fill the void left by those two in the scoring department.
One of the ways they attempted to do that was by showing a big commitment to van Riemsdyk with a new six-year contract calling for $4.25 million annually despite two seasons with numbers that you wouldn't think fit the bill.
The hope though was that he would build on it. It was a deal given out more for potential, for their belief in his growth than what he had achieved in his two seasons. Some of that had to be based on his playoff performance where he had seven goals in the 11 games the Flyers played.
It's just that this season hasn't gone exactly as planned in taking the next step. He's battled injuries a few times this season already -- including a concussion -- as well as plenty of trade rumors. His name was suggested a lot as one that could be sent out of town to help with the Flyers' other needs.
In the 43 games he has played thus far he has 11 goals and 13 assists. If he is out for the six-week time span within that recovery timetable, that could take him all the up to the end of the season. Then it becomes a question of what kind of shape will he be in for playoff hockey.
Now here is video of the play that caused the injury. Ouch.
For more hockey news, rumors and analysis, follow @EyeOnHockey and @BrianStubitsNHL on Twitter and like us on Facebook.