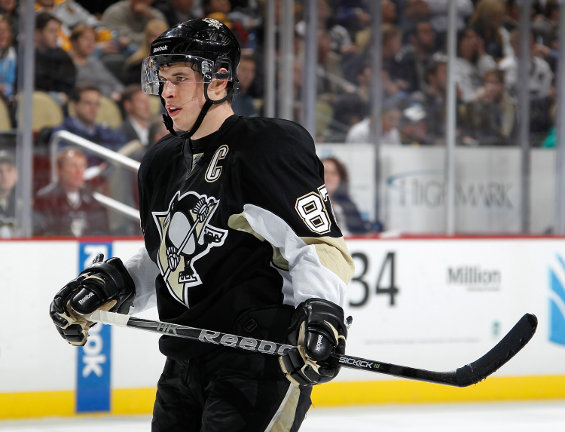 Sidney Crosby was cleared by doctors to participate in game-day skates and will join the Pittsburgh
Penguins
on their current trip.
Crosby will be on the ice with his teammates Thursday for the first time since a concussion forced him out of the lineup on Jan. 5. The Pens' two-game trip takes them to Tampa Bay (Thursday) and Florida (Saturday). Game-day skates are typically non-contact.
"I have no expectations of him coming back and playing in the regular season. That's not going to happen," Pittsburgh Penguins general manager Ray Shero told reporters Wednesday. "In terms of playing in the playoffs for us, that's something that's still two or three weeks away (from exploring)."
In fact, Pat Brisson, Crosby's agent, tells CBSSports.com that there has been no talk about a return date. Crosby has been followed closely by team physician Charles Burke and concussion expert Michael Collins, who would have to first OK Crosby's return to full-contact practices.
"Everybody involved recognizes that this takes time," Brisson said. "We haven't even come to a point where it's been discussed when he can return to contact hockey. There have not been any discussions among the medical staff, Dr. Collins, myself, Ray Shero and Sidney about when he's coming back to play. Not at all."
Still, Brisson said Wednesday's news is surely welcome.
"This is a nice step and we're going in the direction toward his recovery," he said. "Still, we're not jumping to any conclusions here. He'll be able to participate in some sessions with his teammates, but not all of them."
Crosby has done individual, on-ice workouts since March 14, upping the duration of each session over time. He did not skate today, although this was a scheduled day off.
Shero said he doesn't expect Crosby to endanger himself by coming back too soon.
"He knows his injury at this point," Shero said. "My expectation at this point is that he's not going to push himself too much, but he'll push himself enough where he feels good and if he doesn't he'll pull back a little bit."
-- A.J. Perez
Photo: Getty Images