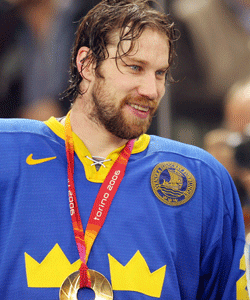 The Swedish national team lost in the preliminary round of the 2006 Olympics but went on to win the gold medal anyway. It was a triumph in the final over rival Finland that did it.
Now Swedish legend Peter Forsberg, a member of that '06 team, is saying his team took a dive in the prelims, purposely losing to Slovakia. Why, you ask? So the Swedes would avoid the side of the bracket that contained the Canadians and Russians.
"We did all that was needed to win the tournament," Forsberg told a Swedish TV station (via Google translate, so pardon the rough English). "We maybe discussed within the group probably 'is better if we do not go out and charge us too much.' All knew that this was our chance. We did all that was needed to win the tournament," Forsberg said.
"I think you can blame the whole system."
By losing to Slovakia 3-0, Sweden then had a medal-round draw of Switzerland in the quarters then went through the Czech Republic in the semifinals to reach the gold-medal game. Of course, if by design or not, it seemed to work.
One of his teammates, Canucks star Henrik Sedin, doesn't remember it going down that way.
"No, not at all," replied Henrik when asked if the story was true. "I was surprised when I read it. We didn't talk about it at all in the room and the coaches didn't talk about it. Mats [Sundin] was our captain and he came out right away and said it wasn't true."

"It wasn't on our radar to go out and lose, no, no," Henrik insisted. "I don't think we thought about that before the game. Maybe when there were a few minutes left in the game it came up but not during the game. Slovakia had a great team and, if you looked at how they played in the tournament, they could beat anyone. The result wasn't a big upset for us, or anyone.

"You have to remember, too, that we were already in the quarter-finals," added Henrik. "It wasn't a big game for us, so to speak. So that might have been part of it."
Is it a little dishonorable and against what the Olympics stand for? A little, sure. But even if they did take it a little easy against the Slovaks from the outset, I fail to see the problem. And as I said, the decision obviously paid off.
They were only avoiding the Russians and/or Canadians for so long, in theory. They still could have faced either country in the tournament finale but instead neither made it there. The Swedes had to face the country that knocked off Russia (who beat Canada), Finland, and won that game.
No harm, no foul. If Forsberg's account is true or not, it was probably still worth it for the players on the team. You don't get many chances to win a gold medal.
Photo: Getty Images
For more hockey news, rumors and analysis, follow @EyeOnHockey and @BrianStubitsNHL on Twitter.