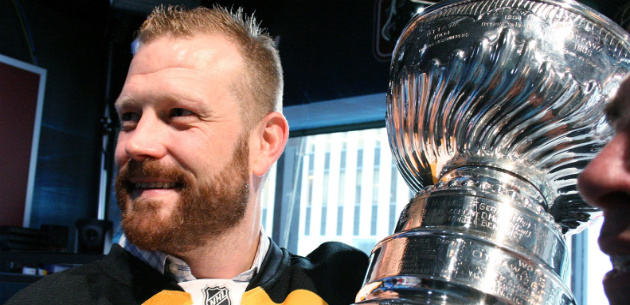 By: Adam Gretz
Oh yes, it's been an awesome couple of months for Boston
Bruins
goaltender
Tim Thomas
. Stanley Cup? Check. Vezina Trophy? All his. Sandwich named after him (and this is clearly the important one)? Winner.
The folks at Days of Y'orr, a blog dedicated to the Stanley Cup champions,
recently stumbled upon The Tim Thomas
, a sandwich at the Coolidge Corner Clubhouse in Brookline, Massachusetts.
The description on the menu: A grilled chicken breast coated in cajun spices, topped with grilled pineapple slices and melted pepper jack cheese. It'll run you $12.99.
Days of Y'orr not only came away unimpressed with the quality of the food at the restaurant, but also the fact that the Tim Thomas sandwich wasn't a cheeseburger. Having never had the luxury of dining at the Coolidge Corner Clubhouse I can't -- and won't -- speak for the quality of the ingredients or the food itself, so I'll leave that for the people that have actually frequented that particular establishment.
But what about the actual concept of the sandwich? The chicken and the pineapple. That it doesn't contain bloody red meat. Assuming it's made with fresh ingredients and prepared well, is this a sandwich you would enjoy? Is it worthy of being named a Stanley Cup Champion?
I'm not afraid to say yes, mainly because I'm a sucker for pineapple.
A quick glance at the menu on the the
Corner Clubhouse's website
reveals at least two other Bruins related sandwiches: the
Milan Lucic
, a roast beef sandwich with horseradish sauce, cheddar, lettuce and tomato on a bulkie roll, and the Ray Bourque, a North Carolina style pulled pork served on a bulkie roll with sliced Bermuda onion and a side of coleslaw.
(H/T Houses Of The Hockey)Photo: Getty Images
For more hockey news, rumors and analysis, follow @EyeOnHockey and @agretz on Twitter.