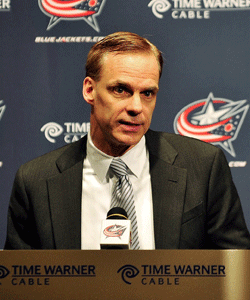 Columbus Blue Jackets general manager Scott Howson has seemed to be stubborn for stubborn's sake in the early going. At least in public he hasn't been willing to admit the long odds that are facing his Jackets in their attempt to try and get back in the playoff race. Some might even call them astronomical.
Well it's a Festivus miracle, Howson has seen the light. The team as currently constructed isn't going to "flip a switch" -- one of those clichés I hate so much -- and start instantly playing better. They are what their record says they are -- one of those clichés I don't mind -- which is not a good NHL team. Finally Howson will admit that.
Remember, admitting you have a problem is the first step to recovery (from Bob Hunter at the Columbus Post-Dispatch).
"This last five-game stretch has given us a little more clarity," Howson said. "We're just not good enough as a team.
"The first six or seven weeks of the season, it was too disjointed," he said. "We had [James] Wisniewski out. We had [Jeff] Carter out. We had [Radek] Martinek out. We had [Mark] Dekanich out. ... It was just too disjointed to get a clear picture. The picture is becoming clearer now. We aren't playing well enough and ... me as management has to find a solution to help the team."
So what's the solution then? Howson still believes it's not changing coaches. It's pretty amazing that six coaches have been fired this season and none of them was Scott Arniel, but Howson doesn't seem interested in getting rid of him yet, doesn't believe the coach is the issue at hand.
He has some other areas of focus instead.
"We're not good enough defensively, first," he said. "And that's a team-wide thing. It's goaltending, it's defense, it's forwards playing together as a group. We gave up six [goals] in St. Louis. We gave up four [in Chicago]. We gave up six in Nashville. We gave up six in Edmonton. You can't win like that. It's impossible."
So with the Christmas roster freeze lifted when the clock struck midnight on Tuesday night/Wednesday morning, it figures Howson will begin making and taking some calls trying to upgrade his defense. The only problem is that's a lot easier said than done.
But it's not going to stop Howson from trying.
"We'll be active.
"Everything's on the table," he said. "We've got to look at everything. We've got to seriously look at everything. Now that's different than saying, 'I'm going to phone every GM tomorrow and say who do you want, [Rick] Nash, Carter or [R.J.] Umberger?' but we've got to look at the whole situation and we've got to consider everything."
With that, every team in the league collectively began salivating.
If Howson is insistent on trying to upgrade his team via trades this season, he will likely have to dangle one of those big names if he wants to get any serious returns. It's unlikely that James Wisniewski would also be available, after all he is trying to upgrade the back end. Trading away a defenseman you have committed for years doesn't jive.
One concern too will be the fact that the Jackets don't have a lot of flexibility under the salary cap, so that further opens the idea that one of their big-name players like Carter or Nash could be on the market. It's tough to add some quality players without shedding some salary.
There is still plenty of time before the trade deadline so there is no urgency to get moving right now, but what's to gain by waiting? Howson has given the team ample chance to get things going in the right direction after they got all their players back in the lineup. Yet here the Jackets are, losers of six straight games.
Photo: Getty Images
For more hockey news, rumors and analysis, follow @EyeOnHockey and @BrianStubitsNHL on Twitter.