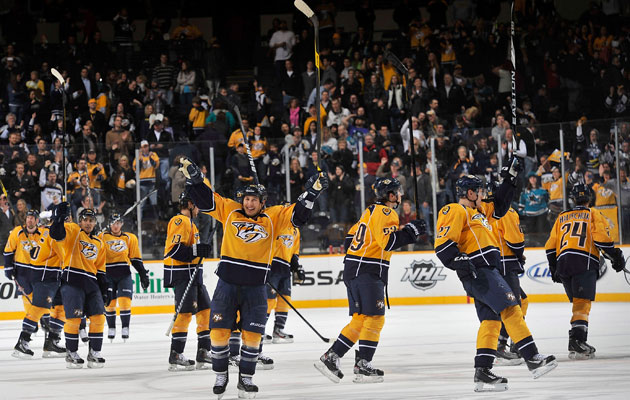 The Nashville Predators were the 2012 NHL Trade Deadline's biggest winners. (Getty)
By: Adam Gretz
It shouldn't be a surprise that Monday turned out to be, for the most part, a quiet day as the 3 ET trade deadline passed.
Increased parity around the league and the fact nearly every team in the NHL still thinks it has a chance to make the playoffs this season reduced the number of true sellers to no more than four or five (If that). That, of course, made it nearly impossible to strike many impact deals, not to mention the sky-high prices teams were apparently putting on their players.
In the end,
Rick Nash
is still a Columbus Blue Jacket.
Steve Ott
is still a Dallas Star.
Roman Hamrlik
and
Mike Knuble
are still Washington
Capitals
.
Ryan Suter
is still a Nashville Predator.
And speaking of the Predators, if they wanted to send a message to Suter and his partner in crime on the blue line,
Shea Weber
, not to mention the rest of the organization, the fan base and the NHL as a whole that they're ready to start going for it, they certainly did so on Monday.
Or attempted to, anyway.
The Predators were one of the busiest teams in the NHL over the past week, and after acquiring
Hal Gill
from the Montreal
Canadiens
last week for a couple of draft picks, they made two of the biggest moves on Monday by acquiring
Andrei Kostitsyn
from the Canadiens for two more draft picks, and then grabbed
Paul Gaustad
and a draft pick from the Buffalo
Sabres
for a first-round pick.
The Gaustad trade is a bold one. Perhaps even a little crazy given the price they paid for a role player that also happens to be an unrestricted free agent after the season. But he's a valuable player that is going to help, and now that everything has settled the Predators are a deeper, better team than they were at this time last week.
As general manager David Poile said "These trades have certainly given us a chance to play with the big boys this year."
NHL Trade Deadline
More NHL coverage
Winners
Los Angeles Kings:
The Kings big trade came earlier in the week when they landed
Jeff Carter
from the Columbus Jackets, giving the team the goal-scoring help it desperately needed, and reuniting him with his long-time teammate,
Mike Richards
. As I pointed
out the night of the deal
, the Kings were able to acquire Richards and Carter over the past year in two separate trades that did not require them to give up any of their own franchise, core players, which is pretty big score.
Buffalo Sabres:
When word surfaced early on Monday that the asking price for Gaustad would be a first-round draft pick, there was some disbelief, as well as the assumption that as the day progressed that price would drop. The Sabres didn't back down from their demands and ended up getting the first-round pick they wanted for a player that had chance to lose for nothing over the summer.
They also addressed their need for young talent down the middle by striking what was perhaps the biggest deal of the day, sending Zach Kassian to the Vancouver
Canucks
for
Cody Hodgson
.
Minnesota Wild:
In what was simply a hockey trade that saw two teams swap different types of defensemen the
Oilers
shipped
Tom Gilbert
to Minnesota in exchange for
Nick Schultz
. The Oilers traded an offensive-minded player for a defensive one, the Wild did the exact opposite, but ended up picking up the better player. Gilbert is going to help Minnesota a lot more than Schultz will help Edmonton.
Ottawa Senators:
Saturday's addition of goaltender
Ben Bishop
is one of those deals that could sneak under the radar but provide a big return. Bishop is a highly regarded prospect and with
Brian Elliott
and
Jaroslav Halak
filling the position for the foreseeable future in St. Louis, Bishop wasn't going to get much of an opportunity. He might get it in Ottawa, especially in the short-term now that
Craig Anderson
is sidelined, and the Senators were able to get him without giving up much in return. Solid addition at a fair price at the right time.
Losers
Rick Nash and the Columbus Blue Jackets:
The most shocking development to come out of the Rick Nash drama on Monday wasn't that he didn't get traded. For all of the rumors and speculation that followed his name over the past week, it's not a huge surprise that he's still a member of the Blue Jackets on Monday evening. The insanity really started to kick in when.general manager Scott Howson admitted in his Monday afternoon press conference that Nash initially approached the team and asked for a trade, putting the entire process in motion.
Why Howson would admit this is a mystery, but it's becoming pretty obvious that even though Nash will finish this season in Columbus, he's probably not going to be there at the start of next season. Especially now that his (current) general manager pretty much tossed him in front of the bus.
The only question that remains is whether or not Howson will be the man to make the inevitable trade over the summer. And given the return Columbus received on its two trades this past week, selling off
Antoine Vermette
and Jeff Carter for what amounts to
Jack Johnson
and some magic beans, not to mention the way he fumbled the Nash situation helping to put a nice bow on a season that only seems to get worse, it's worth asking who will be making that call from the general manager's office.
Of course, Nash isn't completely without blame in this mess either. His agent commented over the weekend that it would be best for a trade to be done sooner rather than later, and if Nash himself were really that desperate to get out of Columbus he wouldn't have limited the Jackets' potential trade partners by only offering to waive his no-trade clause for a short-list of teams, and one that his agent claims will not grow over the summer.
This appears to be a no-win situation for Columbus and its fans.
Chicago Blackhawks:
The Blackhawks goaltending and defense has been a sore spot this season, and their only major move was to add
Johnny Oduya
from the Winnipeg
Jets
. Not sure if that's going to be enough.
Carolina Hurricanes:
After re-signing
Tuomo Ruutu
and
Tim Gleason
, two popular names in trade speculation over the past month, the Hurricanes did not deal
Bryan Allen
or
Jaroslav Spacek
, two players that are eligible for unrestricted free agency after the season, which means they could possibly walk out the door for no return. It's still possible that one (or both) can be re-signed, which could be exciting ... if you're interested in keeping together a team that's currently 14th in the Eastern Conference.
Teams that stayed quiet


Pittsburgh Penguins:
For the first time under general manager Ray Shero the Penguins did not make a move on, or near, the NHL's trade deadline. With the way the team is playing right now and the makeup of its roster, with
Evgeni Malkin
and
Jordan Staal
leading the way, a move wasn't really needed. This team is playing well enough as it is, doesn't appear to have many holes and looks like a team that can be a favorite and top contender for the Stanley Cup.
But the mindset around Pittsburgh seems to be that the lack of a move is a positive sign that
Sidney Crosby
could be on the verge of a return, or that he will eventually be "the big addition" for the roster. That's all well and good, and if it works out that way, fantastic. But assuming anything right now regarding Crosby is a major stretch. Nobody knows for sure when he'll be back, and it's worth pointing out that his last return lasted all of 10 games. Still a lot of uncertainty around that entire situation.
Washington Capitals:
The Capitals were expected to be one of the busiest teams on Monday, especially after their decision to move center
Nicklas Backstrom
to the long-term injured list, opening up a pretty significant amount of salary cap space ahead of the deadline.
In the end the Capitals did nothing, which seems to be a pretty big shock around the NHL. But is it?
The Capitals could have certainly used a center, but with the way this team has looked for much of the season it's hard to imagine there being a move out there that was going to help this team get over the hump this year. Why give up significant long-term assets to chase after the No. 7 or 8 playoff spot when a deep postseason run doesn't look like it's a legitimate possibility?
For more hockey news, rumors and analysis, follow @EyeOnHockey and @agretz on Twitter.