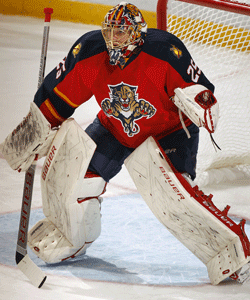 Before the season began, if there were talk about a goalie controversy in Florida, most would have assumed it would be over the ineptitude between Jose Theodore and Scott Clemmensen.
But a funny thing happened to start the season. Knee surgery forced Clemmensen to the injured list so the Panthers had to keep top goaltending prospect Jacob Markstrom with the NHL club instead of sending him back to the AHL for a little more seasoning. It was assumed when Theodore signed for two seasons, he'd be there to stem the tide until Markstrom is ready and pass the torch then.
Well "then" appears to be now to everybody watching the Cats. Everybody except for new head coach Kevin Dineen.
"Theo's our starter and a great player," Dineen told the Sun-Sentinel. "He's going to get back in there soon. Jacob not only earned that start but earned that victory."
In the meantime, however, Dineen hasn't said yet who will start Thursday in Ottawa, saying it is a "good decision to have.''
Markstrom rode the pine for the first four games of the season behind Theodore before Dineen gave the Panthers' first pick in the 2008 NHL Draft his first career start. His Panthers were thoroughly outplayed by the Capitals, but Markstrom was brilliant, keeping the Panthers within striking distance, allowing just two goals in a 3-0 loss (one empty-netter). He then relieved Theodore in the third period of a game against the Islanders when Theodore got a little dinged up and closed like Mariano Rivera, stonewalling all 18 of the Islanders' shots.
Then came Monday night in Montreal when Markstrom received his second career start. All he did there was stop 40 of the Canadiens' 41 shots, including some spectacular stops (see for yourself) on seemingly sure goals. The Panthers needed every one of those 40 saves, too, as they won just 2-1.
That brings his season total to 87 saves out of 90 shots. It also prompted one of the postgame quotes of the year from teammate Scottie Upshall.
"He's like a Transformer," Upshall said. "We're not sure if he's human or if he's part alien."
Theodore, meanwhile, hasn't been bad for the Panthers, but he hasn't been as good as Markstrom. Theodore's states on the season show a 2.62 goals against average and .913 save percentage as well as a shutout in his debut.
Thus, Dineen put the speculation to rest on who his No. 1 goalie is. But it doesn't answer the question of what happens to Markstrom when Clemmensen is healthy to return, which isn't far away? Do the Panthers carry three goalies a la the Isles with Evgeni Nabokov, Al Montoya and Rick DiPietro? Do they send Markstrom back to the AHL even though he's shown he's more than capable of playing at the highest level?
At this point, the AHL doesn't seem to be in play, no? How do you justify sending down somebody playing so well? Instead, you could see Clemmensen become expendable, although it's unlikely there would be much of a market for him.
File this in the good-problems-to-have folder.
Photo: Getty Images
For more hockey news, rumors and analysis, follow @EyeOnHockey and @BrianStubitsNHL on Twitter.