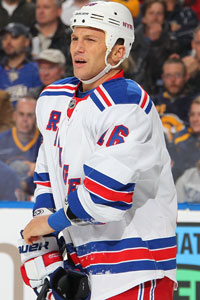 Avery played 15 games this season with New York, scoring three goals. (Getty Images)
Is this it? Have we seen the end of Sean Avery the professional hockey player?
The AHL Connecticut Whale put together their playoff roster and Avery wasn't on it. What's more, they even told him he no longer needs to report to the rink for practices or games according to Larry Brooks of the New York Post. Sounds like a complete excommunication to me.
It's been one whirl of a season for Avery, who clearly has worn out his welcome with the Rangers. Just before the season Avery was cut and sent to the AHL at which point he considered possibly playing overseas. The Rangers then called up him due to injuries and early lackluster play but then sent him back to the AHL just before the new year. This from Brooks is what Avery has been relegated to since.
Avery has not played in a game for the Whale since Jan. 27 and has not practiced with the team for approximately three weeks, instead skating on his own under management orders.
He even has gone through waivers and obviously wasn't claimed, making you wonder if any team is interested. So is this it for Avery in the NHL? I mean, if he's done playing I don't get the feeling we're never going to see or hear from him again like a lot of players. The question is if we'll hear about him on the ice.
He is an unrestricted free agent this summer so I suppose some time might decide its worth taking a flyer on a two-way contract for cheap. I just have a hard time believing it will happen at this point.
But if there were a team interested, Sean Hartnett of CBS New York has an idea as to who it might be.
One team in particular known to gather players from their rivals is the New York Islanders. The Isles were believed to been interested in the 31-year old had he been passed through waivers.
We'll have to wait and see, but I don't think there will be many fans crying if Avery doesn't have an NHL job for next season.
For more hockey news, rumors and analysis, follow @EyeOnHockey and @BrianStubitsNHL on Twitter and like us on Facebook.