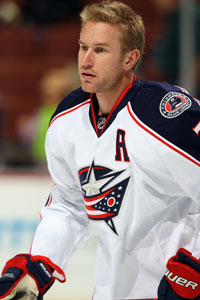 The Jackets might move Carter, but can they? (Getty Images)
There's no time quite like the present. Isn't that what they say?
The present now just happens to be trade deadline month in the NHL. The actual day isn't for another few weeks, Feb. 27, but the whole month will be full of he said/she said, rumors that make you say hmm and others that make you say huh?
It seems like it's been a while since there were some real blockbuster deals looming in the NHL. It's not often there are teams willing to move the big names, the star players. That doesn't mean there weren't some key trades made, evident after the fact. In all, there were four players traded last February that were in the All-Star Game this season -- Joffrey Lupul to the Maple Leafs, Brian Elliott to the Avalanche, James Neal to the Penguins and Dennis Wideman to the Capitals.
There were certainly other moves that were crucial too. Just look at what the Bruins did, acquiring Tomas Kaberle, Chris Kelly and Rich Peverley last February, all important to their run to the Stanley Cup last season and in the case of Kelly and Peverley, the Bruins' push this season.
But none of those really stole the show. Not the way this year has the potential to. Or at least had until recently.
A little more than a week ago it looked like Zach Parise, Ryan Suter, Tim Gleason and maybe even Shane Doan were possible targets to move. Circumstances have changed or the teams have reaffirmed those guys aren't on the move.
Because of parity across the league partly as a byproduct of the points system in place today, there are a lot less sellers. Despite the odds of teams being five or more points back making the playoffs being long, clubs often times refuse to give in and admit they should reshuffle their organization.
It ends up with teams that should be looking to add, teams that shouldn't be looking to do anything and some teams that should probably be looking to sell all thinking the same: Let's add.
"Right now there are different teams trying to make a trade, but the problem is there are only two or three teams that are even willing to make a trade for a draft choice or prospect, meaning they don't think they are going to make the playoffs," Nashville GM David Poile told NHL.com. "What I want now versus what I can later are two different things because of the parity you have in the NHL.
One team that is painfully aware it doesn't stand a shot this season is the Columbus Blue Jackets. They are 11 points out ... of 29th place in the league. It's 23 points to the eighth seed in the West. After an offseason that saw them acquire Jeff Carter and James Wisniewski, that's a horrible disappointment. You know what that means ...
Yes, the Jackets will be sellers. And, even though they acquired him just seven months ago, all indications are that they would like to part ways with Carter. It's really been a wash of a season for him, fighting through injuries but still only scoring 10 goals with seven assists in 30 games.
"There's talk about a lot of guys [in here] right now. Our team, with the way the season has gone -- the injuries, the standings, and stuff -- I don't think it should come as a surprise to anybody on our team if they end up [in rumors]," Carter told the Columbus Dispatch.
The massive hurdle with Carter is figuring out how movable he is. His contract runs through the 2021-22 season with an annual cap hit of $5,272,727 (courtesy of Cap Geek). For a player that's been snake-bitten by injuries this season and hasn't seemed to want to be where he is at all this season, that becomes a tough sell, especially when you consider what the Jackets will want in return. They need everything, but primary concerns are in net and getting better on the blue line.
Still, he's only 27 and has shown with his time in Philadelphia that he can contribute a lot offensively. This will be the first season since 06-07 he didn't score at least 29 goals and more than 50 points. There could be some GMs out there willing to take the risks for the potential, which is still high.
If it does happen, it will be a not-so classic case of buy high, sell low for Columbus -- granted, low with Carter is probably still kind of high. That's not the best way to move on up in the world.
A good chunk of the rest of the Columbus roster will be available if anybody wants to take a shot, too. They'd probably love to move Steve Mason, but it's tough to envision anybody wanting him at this point. Rick Nash and Wisniewski are probably untouchables, Nash being the heart and soul of the otherwise faceless franchise and Wisniewski being the biggest player at their position of need. But the other guys like Antoine Vermette, Vaclav Prospal and more? Take your best shot.
The Blue Jackets aren't the only team known to be exploring the market. Tuomo Ruutu is a hot candidate to be moved from Carolina with the Hurricanes last in the East.
"I've heard rumors I'm going to every team in the NHL," Ruutu told Chip Patterson of the News & Observer this week. "I must be really playing well."
Obviously Ruutu isn't going to get people's gears going, but he could be a good addition for somebody, assuming the price is right. It's unlikely he's going to give any team top-six production, but he's not worthless either. One of the concerns is that he becomes a UFA this offseason, so it could be a rental situation.
The potential is endless, though. The Canucks have some expendables in their quest to bolster the roster for this year's push. Mason Raymond is a target of many. Some still think they should move Cory Schneider, perhaps the hottest backup goalie in the league. The Stars have to decide what side they're on, and if it's the seller side, Brenden Morrow could be up for grabs. The Canadiens have Travis Moen, Hal Gill and Chris Campoli. The Oilers could move Ryan Smyth again. It goes on and on.
Of course we'd be remiss if we didn't mention the Toronto Maple Leafs. Brian Burke always seems to find a way to get in the big trade action.
But it will probably all come back to the biggest, most obvious seller of them all in Columbus.
For more hockey news, rumors and analysis, follow @EyeOnHockey and @BrianStubitsNHL on Twitter.