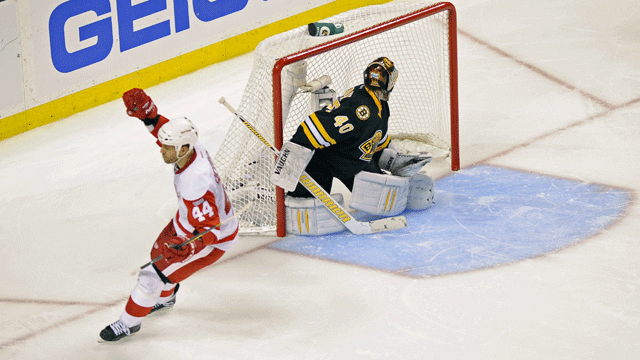 For 65 minutes, the Thanksgiving Showdown (can't we come up with a better name than that?) the Boston Bruins and Detroit Red Wings battled for one of the best game of the season. Put honestly, it was pure awesomeness. Two excellent teams playing at a high level played a pretty clean and overall excellent game.
Then a shootout came and the entire hockey world moaned. The Red Wings prevailed 3-2 and ended the Bruins' win streak at 10 games. So now we can say the Bruins have an 11-game point streak.
I'm not breaking any news to you right now, people hate the shootout. That's what they say, at least. You show me 10 fans of the NHL and I can probably point out nine who claim to detest the "skills challenge."
Well I'm the one out of those 10 that doesn't loathe it. As a matter of fact, I enjoy it. I really do.
I believe it all depends on what you're used to. Most hockey fans hate it because for so long, it didn't exist. Ties are OK in the minds of NHL fans; it's what they grew up with. Me? I grew up with a minor-league hockey team in my town, and they used the shootout. It was common for me growing up and I enjoyed seeing them, as it seemed everybody else in the building did too.
One of the arguments I see pro-fighting people make is that it brings everybody out of their seats. Well you know what else does? The shootout -- or any penalty shot, for that matter. It's exciting. I always crack up at people who bemoan the shootout, but then marvel at what we see. It's almost like a guilty pleasure.
When the Thanksgiving Showdown went to the shootout, I couldn't wait to see what Pavel Datsyuk and Todd Bertuzzi could do. As expected, they were impressive and successful. Datsyuk showed off his outstanding quickness with the stick while Bertuzzi once again showed he has quite an array of moves.
I'm of the school of thought that feels a tie is just so unrewarding. Are there some other, better ways to achieve that end than the shootout? Probably. There is no shortage of suggestions. I admit to enjoying the shootout here at the risk of ridicule, but I am in total agreement with those who would like to see a change in the scoring system. A 3-2-1-0 format would be best, I agree. There are ways to improve things, but I don't think it has to be simply by eliminating the shootout.
So the Thanksgiving Showdown turned into a Turkey Shoot(out). Most say they would rather eat a dry turkey all week than watch a great game end in a shootout like that, it doesn't bother me. A great game was finished off with some great highlights.
Now feel free to roast me and the system, I know you will.
Photo: US Presswire
For more hockey news, rumors and analysis, follow @EyeOnHockey and @BrianStubitsNHL on Twitter.