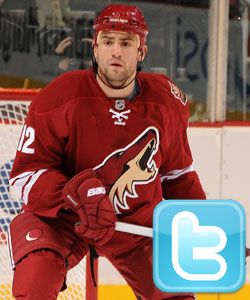 The NHL has sunk its teeth into the Twitter regulation business. As a result, no more will you hear from your favorite athletes on Twitter on game days. That's the result of the league's new policy, which was agreed to by the NHLPA.
The whole concept behind the policy is to make sure sensitive material isn't being revealed. I'm sure it had a little to do with organizations seeking some help, possibly feeling that their players could a) tweet said sensitive material, or b) be distracted by the social medium.
"The policy is sensible," Deputy Commissioner Bill Daly said. "It lets our players and clubs participate substantially in the opportunity of social networking while identifying and mitigating some of the risks. To date, our players and clubs have been exemplary in connecting with fans on social networks, and fans should not expect to see any material difference as a result of this policy."
Specifically, the policy calls for a blackout period of two hours before the game until the player's media obligations are completed. This has been a window of time that has pretty much been quiet anyway. Players haven't exactly been active in the locker room or on the bench.
For hockey operations staff members, the ban kicks in at 11 a.m. on game days. So Blue Jackets GM Scott Howson, for example, won't have much to say on game days, even if it's something as innocuous as "GAME DAY! See you there Jackets fans!" for an example.
My visceral reaction is to reject regulation, it feel so draconian. It is a chilling effect, even if it is a restriction that was already being adhered to by 99.9 percent of the involved parties, if not 100 percent.
"To date our players and clubs have been exemplary in connecting with fans on social networks," Daly said.
So withdrawing the knee-jerk reaction to regulation, this simply establishes a guideline. Now teams would have actual recourse if a player were tweeting, say, during intermission. Although I think that would be pretty cool. Anything that would separate the NHL from the other leagues and make it stand out, I'm all for. But I understand this would never, ever fly and it's unlikely players would tweet mid-game even if they could.
The biggest tweeter of them all, Paul Bissonnette of the Coyotes (@BizNasty2point0), doesn't seem to have an issue with it.
"People asking about NHL's new policy on Twitter. I think its good. I don't even play much and I don't tweet on game days. Plenty of off days,"
And for those who are still resisting Twitter (I was once one of you, but it is truly perfect for sports fans) then this will have no impact whatsoever on your hockey fandom.
Photo: Getty Images
For more hockey news, rumors and analysis, follow @EyeOnHockey and @BrianStubitsNHL on Twitter.