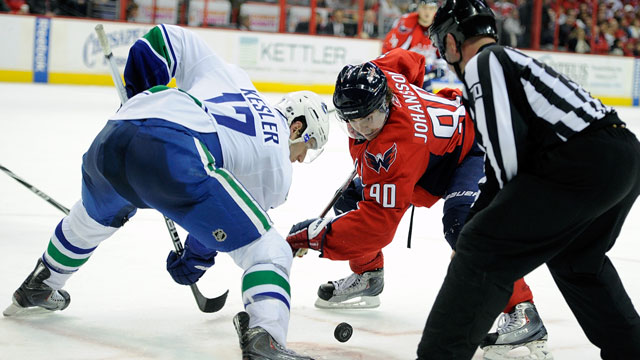 It's always fun to see how the oddsmakers view championship contenders. For example, many people believe that a better indication in college football is what Las Vegas says, not the AP Top 25.
So when the odds for the Stanley Cup were released by Bodog on Thursday the question was who is the favorite entering the season? Personally, I'm not removing the Bruins from that designation, but Bodog is. For the betting service the Vancouver Canucks and Washington Capitals are the co-favorites at 7-to-1 odds with the Bruins and Pittsburgh Penguins with the second-best odds at 10-to-1.
Obviously there is no griping with either the Canucks or Caps being up that high. The Canucks were a win away from being the champions right now and the Caps have been knocking on the door for years and everybody agrees they only got better this offseason. In regards to the Penguins, you have to think the belief is Sidney Crosby will be back -- and recent signs are good since he's returned to practicing. They are still a good team without him, but second-best odds? I'm not sure.
Who is bringing up the rear? It's still the New York Islanders, believe it or not. I guess the oddsmakers aren't buying into the improvements the Isles have been showing of late. They go off at 80/1 to win the Cup. Not far behind is a three-way tie for second-longest odds with the Florida Panthers, Minnesota Wild and Columbus Blue Jackets beginning at 75/1 longshots.
To see the entire odds from Bodog, here's the list.
Photo: Getty Images
For more hockey news, rumors and analysis, follow @EyeOnHockey and @BrianStubitsNHL on Twitter.