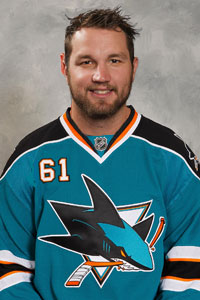 What Nash would look like in San Jose.
In the days leading up to the trade deadline (Monday, Feb. 27) we're going to keep tabs on the biggest name on the block, Columbus Blue Jackets star and captain Rick Nash.
The list of teams rumored to be in on Nash isn't incredibly long and it's the usual suspects that you'd expect to be in on a big-name, high-priced star like Nash. His wish list -- put into song so wonderfully -- was supposedly five teams long with possible Wild cards in the mix too.
We're going to take a look at each of the rumored wish-list teams and how Nash would fit, looking today at the San Jose Sharks.
The Sharks were on Rick Nash's rumored wish list from the moment it was first reported and speaking only for myself here, I didn't anticipate they'd be in the conversation much. It was holding true with most all of the talk surrounding the Rangers and Kings.
Then TSN's Darren Dreger reported not only that the Sharks were definitely in the conversation, they were making a push.
At the heart of the matter, one of the driving forces in the connection of Nash and San Jose is his relationship with Joe Thornton. Nash and Jumbo Joe are good friends. Not to mention they'd make a pretty damn good pairing on the top line. Remember, Thornton helped Jonathan Cheechoo to some ridiculous numbers in San Jose, imagine what he could do for Nash.
The Sharks are still in first in the Pacific, but it's not unfair to say they could withstand for some reinforcements. They are now tied with the surging Coyotes and are only three points up on the offensively inept Kings. With the Canucks and Red Wings pulling away from the pack atop the West, the Sharks are going to need to find a way to go toe to toe if they want to get back to the Western Conference finals and go further.
What it would do is give the Sharks another left winger, a position where Patrick Marleau resides. But that's not a problem, no team will ever complain about having too many left wingers who could play on the top line. As I touched on yesterday, the Kings would love to have that problem.
As is the question with every team that could potentially land Nash, though, is what would it take to get him? Dreger reported the Jackets asked for Logan Couture but were immediately rebuked by the Sharks on that request. Hey, no harm in asking if you're Scott Howson.
It was speculated from Andy Strickland at True Hockey that they could ask for Joe Pavelski too. I said yesterday that I'm not sure even straight up that would be worth it for San Jose, so let me explain a little more here.
NHL Trade Deadline
More NHL coverage
I'm a big Pavelski fan. I really like his game and he's taking it to a new level this season, already at his career high in goals for one season. He is excellent in the face-off circle. Digging into the advanced stats, Pavelski is second among Sharks forward in Relative Corsi behind only Thornton. He's a valuable player. That's not to say all 30 GMs wouldn't pull the trigger on a Pavelski-for-Nash swap, it's just that I was saying you're already starting at a very high price with Pavelski and we aren't talking about a slouch here.
Purely speculation on my end here, I haven't seen this even rumored, but you'd have to wonder if Thomas Greiss would be in the conversation. The Sharks obviously would like to have a good young goaltender around for many years, but Antti Niemi is their No. 1, the guy they have invested in and he's not necessarily an old guy at 28.
Not that there would be any concerns with how Nash would fit with any team, but it's hard to imagine a better fit than with San Jose considering the relationship with Thornton. The question is do the Sharks have the prospects and gumption to pull it off.
One thing that is important to remember in all of this is that Nash will have a serious decision to make. This is a matter of moving to a new home for many years, it's not something you decide on a whim (most of the time). And San Jose has prided itself in being a good home for hockey players. It's little wonder why not many guys seem to leave San Jose.
Here is what Sharks general manager Doug Wilson told Kevin Kurz of CSN Bay Area.
"First of all, I didn't read that story, I haven't gotten into my clips yet. We don't talk about other team's players, and any conversation I do have with a fellow GM would be kept in confidence. Historically, though, one of the most important things we do is make this be a place where players do want to play, and make it an attractive destination for players."
I've grown skeptical that any team will be able to pull the trigger on a deal before the deadline on Monday and this will drag into the summer. Either way, San Jose sure seems like it could fit well.
More from Eye on Hockey
How would Nash fit with Kings?
How would Nash fit with Blueshirts?
San Jose stepping into Nash talks?
Update on Nash, other rumors
Nash down to five teams?
Nash not untouchable for Columbus
For more hockey news, rumors and analysis, follow @EyeOnHockey and @BrianStubitsNHL on Twitter.