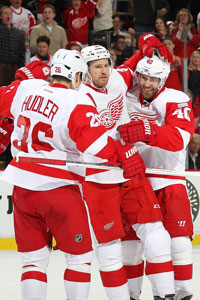 Of Detroit's 20 straight home wins, three came in the shootout. (Getty Images)
The Detroit Red Wings just did something we haven't seen in NHL history but twice before and not since the 1975-76 season. They won their 20th consecutive home game with a 4-3 win over the Philadelphia Flyers.
Ironically enough, the 20-game streak ties the Flyers for longest all time. The Boston Bruins are also the co-record holders from way back in 1929-30. That's a long time that this record has stood.
Not to be the party pooper -- OK, I am sort of playing that role -- but this deserves an asterisk. Don't get me wrong, this is an amazing feat, especially in today's NHL. There is a reason why the Wings are only the third team to win 20 consecutive home games and that's the all-time record. It's damn tough.
But the Red Wings had a benefit the other two teams didn't. They have the shootout to help them settle ties. In the pre-shootout era, this streak would be described as a 20-game unbeaten streak. Again, that's exceptional and very noteworthy. It's just not the same.
Three times in this 20-game run the Wings have won the game via the skills contest, as people like to call it.
This is in a way akin to Roger Maris surpassing Babe Ruth's record with 61 home runs in 1961. He had the benefit of playing eight extra games after MLB expanded the season length. Maris was still honored as the record holder for years, but there was always that little asterisk, particularly among the old-time fans.
The way I see it, the only way the asterisk is muted if they push this streak out a lot longer. Then it becomes so impressive you sort of forget about those little shootout wins. They have a chance to set a new record when they go for No. 21 against the Dallas Stars on Tuesday.
But again I don't want to take away completely from what they accomplished. It put a cap on one hell of a week for Hockeytown. Detroit was announced as the host for the next Winter Classic. Tomas Holmstrom celebrated his 1,000th career game and Nicklas Lidstrom set an NHL record of his own, playing more games with one team for a player who only had one team in his career. A bit convoluted, but still impressive.
In today's balanced and parity-laden NHL, thanks largely to free agency, that makes it perhaps more impressive than the others. Plus the Bruins benefitted from an era of full overtime. The Flyers won all of theirs in regulation considering there was no overtime then, but didn't have as tough of a league to play against.
It goes all ways, pros and cons for each era. That's what makes it so hard to compare, and why I don't want to sell what the Wings have done short. My whole point here is that what the Flyers in particular did was amazing, 20 consecutive home wins all coming in regulation.
Asterisk on the record or not, the Red Wings are virtually impossible to beat at home. That's why the race for the President's Trophy will be absolutely huge this season. With the way they play on home ice you have to think they might be favorites with home ice throughout.
I know not everybody is going to agree on this, so what's your take: Should the Wings' record have an asterisk because of the shootout?
More on the Wings
Recap: Red Wings 4, Flyers 3
Lidstrom sets record of his own
St. Louis almost as dominant at home
For more hockey news, rumors and analysis, follow @EyeOnHockey and @BrianStubitsNHL on Twitter.