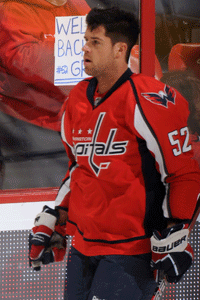 I would love to write about Mike Green the defenseman again. But it's been a long time now since he has played for any period longer than two games in a row.
That's not going to change anytime soon.
The Washington Capitals announced on Monday that their one-time Norris Trophy-nominated defenseman is going to be out 4-6 weeks after having abdominal surgery.
For those keeping score this season, he has had an ankle injury that cost him a few weeks, returned to the lineup in time to injure his groin and sit out another few weeks. He finally came back to play two games after the groin injury before he was sidelined again. Now comes the abdominal surgery.
Go back to last season when Green missed a big chunk of the season due to a concussion and you see a trend developing here, and it's not good for Green.
Where this gets so interesting is what happens with Green in the coming weeks and months. There is no doubt that he's a very talented offensive defenseman whose game was growing in his own zone. But he will become a free agent this summer and the Capitals have obviously learned to play without him and find some other defensemen in their system.
Doing the math, the timeline at the long end brings him back just before the trade deadline. That could make for an interesting decision for general manager George McPhee. The Caps actually have a slew of defensemen who have played in Green's absence, including rookies Dmitry Orlov and more recently Tomas Kundratek.
Considering how little he has been healthy and the $5 million salary he is making this season, you wonder if the Caps can commit to keeping Green around. He has played in only 20 games (including playoffs) since early last February. That's just about an entire year and $250,000 a game.
Photo: Getty Images
For more hockey news, rumors and analysis, follow @EyeOnHockey and @BrianStubitsNHL on Twitter.