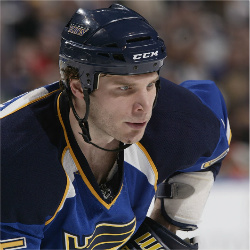 By: Adam Gretz
Following the recent deaths of Rick Rypien and
Wade Belak
, the subject of depression in hockey has been the biggest discussion taking place in the NHL. Both players suffered from it (Rypien's we knew about, Belak's we found out about after the fact) and shared the same role as players (fighters).
Are the off-ice troubles and on-ice role related in anyway? That has been the question everybody is asking in recent days.
Cam Janssen
, a member of the New Jersey
Devils
and one of the NHL's top heavyweights with over 80 regular season fights to his credit
according to hockeyfights.com
, spoke with Rich Cere of the
Star-Ledger
and suggested that it can come with the territory of being a professional athlete, and while there's a lot of fame and money involved, it can also be an extremely stressful job.
Said Janssen, via Cere
:
"I think it has something to do with the job. Absolutely," Janssen said. "People look at the fame and the money part of pro athletes and they don't understand how hard and stressful it can be. Listen, I have the absolute coolest job in the world, but it's also one of the most stressful jobs in the world, too.
After Belak's funeral over the weekend, Josh Cooper of the
Tennessean
spoke with former Toronto
Maple Leafs
forward Tie Domi, a player that had his fair share of dust ups during his NHL career. Domi talked about depression and urged those in need of help to not be alone and pick up the phone and call somebody.
Said Domi
:
"This has to do with depression and getting the right message out there," Domi said. "That depression can be beat. That's what I want to do for him and his family is get the right message out there. Because the wrong message has been sent. Not just about hockey. This is about life. There are 3,500 people in Canada who commit suicide a year, 80 percent of them are men."

Added Domi, "Wade was alone and he can't be alone when you have these things going on. You have to call somebody."
At this point we still don't know what -- if any -- connection there is between fighting and depression. All we know is a handful of players that happened to fight suffered from it. What we don't know is how long it was an issue for them, why it was an issue, or if it could work the exact opposite way everybody is looking at it -- the possibility that the depression is what made some of these guys follow a path that led to them becoming fighters in the NHL. We simply don't know.
It's also possible, if not entirely likely, that there are other players around the league that aren't fighters that are suffering through the same problems and simply haven't talked about it.
For more hockey news, rumors and analysis, follow @EyeOnHockey and @agretz on Twitter.