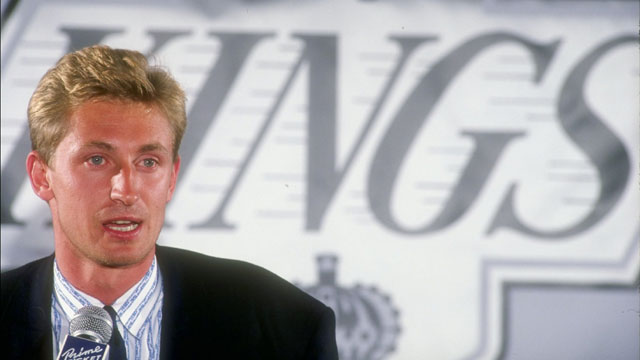 We're not big on this day in history stories, but this one is just a little too important to pass up. For it was on this date, August 9, 23 years ago that the Edmonton Oilers shocked the world and traded The Great One Wayne Gretzky to the Los Angeles Kings.
It was a truly monumental day in hockey history. The greatest player the sport has ever seen was traded away after his Oilers won the Stanley Cup for the fourth time in five seasons. It was a move driven completely by money and then-Oilers owner Peter Pocklington's troubles with it. With the possibility of Gretzky going to free agency and Pocklington knowing he couldn't outbid suitors for Gretzky, he felt no other option. Nobody in their right mind would have traded Gretzky otherwise.
As part of agreeing to the deal, Gretzky asked that Marty McSorley and Mike Krushelnyski be traded with him. In the end the three went to California in exchange for Jimmy Carson, Martin Gelinas, three first-round draft picks and $15 million. Even a haul that heavy couldn't make the deal seem anywhere close to fair for the Oilers. That's the price you pay for dealing the best ever.
The backlash that followed was unrivaled by arguably any move in sports history, not just hockey. When else has the government threatened to get involved in the day-to-day operations of pro sports? Sure, the politicos in the U.S. have tried getting in on the steroid expulsion in baseball and have talked college football playoffs, but actual club operations? That's what New Democratic Party House Leader Nelson Riis tried to do, demanding the Canadian government try and prevent the trade.
That's the result trade the only player to record 200 points in a season, something Gretzky did four times. His name is all over the record books, including the seemingly unbreakable records of most points, goals and assists in a career. Heck, the guy didn't have to wait to get inducted into the Hall of Fame, he was granted induction immediately.
The heat for the trade fell partly onto Gretzky himself. Canadians all across the country called him a traitor for his role in the deal (mostly consenting to it). Pocklington was burned in effigy. Needless to say, people in Canada weren't happy their greatest product was leaving one of its teams.
While his loss was one of the toughest hockey pills Canada has ever had to swallow, his arrival in Los Angeles was groundbreaking. It brought hockey attention in a market that had cared very little before. With the Lakers, Dodgers, Raiders, USC, et. all, why would it? Since then not only has hockey had a presence in Southern California, the region has even received a second team when the Mighty Ducks of Anaheim came into existence.
Without Gretzky's eight seasons in L.A., you have to wonder if there would be Southern California guys like Emerson Etem, Rocco Grimaldi and Beau Bennett playing hockey. It's no coincidence that there has been a rise of players coming out of California in recent years, players whose formative years just happen to be when Gretzky was starring for the Kings and taking them to the 1993 Stanley Cup Final.
Some might say the attention he brought to hockey in a non-traditional market was wiped out since it helped facilitate the rapid expansion into Sun Belt markets -- something numerous fans lament and hope to see end. But in my book it's tough to argue against increased interest. Hockey might not have the biggest fan bases in markets such as Tampa Bay or Phoenix, but there are people that care about the sport that otherwise wouldn't.
In a way, you can trace that all back to August 9, 1988, the day The Great One was traded and became the King of hockey in California. And the day that the one with transcendant skills seemed human.
Photo: Getty Images
For more hockey news, rumors and analysis, follow @EyeOnHockey and @BrianStubitsNHL on Twitter.