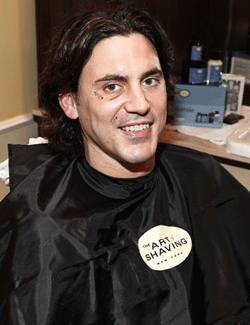 With the fun of Halloween done, it's on to Movember in the NHL. No team will be more involved with the movement than the Anaheim Ducks and their fearsome mustache-wearing enforcer George Parros.
He might be more than a mustache as a hockey player, but it's pretty darn defining. Heck, even Parros' popular Twitter account is @stache16.
Really, it will go down in the sports annals of great upper lip hair history. Personally, I'm not convinced Parros' is even the best in the NHL right now thanks to Senators coach Paul MacLean, but that's no slight. Parros' 'stache is in the running for a spot on the Mt. Rushmore of hockey facial hair.
"It's burly," Parros told Puck Scene of his mustache. "It's manly. It demands respect."
That it does. It commands so much respect, that Parros was able to convince every player in the Ducks locker room to show their support for the Movember movement, an attempt to raise funds and awareness for men's health, particularly prostate cancer through the power of mustache. To do so, Parros actually had to chop of the big bristling 'stache to begin anew for the start of the month.
"Well the stache has been cut!" Parros tweeted. "They broke a few razors but made it through. the race is on...may the best mo win!!!"
Looks weird, huh?
You can hardly recognize him without his furry friend. And soon enough, you might not be able to recognize the other members of the Ducks in their mustaches either. Even goaltender Jonas Hiller, who originally elected to have a special mask made for the month instead of growing out his own mustache, is reconsidering.
"I haven't decided," Hiller said. "I originally planned not to and instead to wear the mask. No one sees it and it's itchy and bothers me anyway, but now with everyone else doing it I almost have to grow one."
When the power of the 'stache can't convince him, there's always peer pressure. And don't get discouraged.
"Everyone's able [to grow a mustache]," Parros said. "Whether or not he can grow a successful one is a different story."
For more excellent Parros wisdom on facial hair, including his own beard and trimming techniques, read the whole story at Puck Scene.
With that, we present a very Bleacher Report-esque best mustaches in hockey lineup. Enjoy. (*Disclaimer: This list is not exclusive. There are surely some terrific mustaches not included. Thanks you.)
Here is George Parros with his mustache in full bloom.
Next we have aforementioned Senators coach, Paul MacLean.
How about the mustache that Parros calls underrated, Terry Rushkowski?
Here's some appreciation for the referees, specifically Bill McCreary.
One of the most fondly remembered mustaches the ice has ever seen, Wendel Clark.
Last but certainly not least, the near consensus No. 1 mustache in hockey history (and maybe in sports history), Lanny McDonald.
Photos: Getty Images
For more hockey news, rumors and analysis, follow @EyeOnHockey and @BrianStubitsNHL on Twitter.