CLOSING IN: The New York Islanders continue to rebuild, seemingly getting closer to the playoffs with each passing season. Now they are at a point of at least being competitive for the playoffs. That's what four different NHL pro scouts told Chris Botta at Islanders Point Blank. "They'll be in the playoff race in the East until the end." It isn't exactly a large sample size, but four scouts all recognizing the growth of the franchise is a sign that things are getting better for fans on the island.

THINKING LONG TERM: Just because the Predators and Shea Weber couldn't work out a deal before arbitration and the player won the biggest award ever in a hearing, doesn't mean the two sides are ready to sever ties after next year. Nashville will have the daunting task of re-signing all three of Weber, Ryan Suter and Pekka Rinne with conventional wisdom being they can't bring all three of them back. The assumption was that it could be Weber because of the cost of keeping him this offseason, but that's not necessarily the case (The Sports Xchange). Weber recognizes the negotiations for what they were when asked if things are OK with the club: "Yeah, for sure. I think that was just part of the business.
OUT OF TOUCH: The troubles of staying on the cutting edge of modern communication is brought to light by Adrian Dater of sportsillustrated.com. He points out that as players are never seen without their headphones or iPod when they travel any more, the classic team bonding of yesteryear isn't happening as often. It's a very interesting and salient point made that coaches and team executives are more than vexed by.

A-MAZE-ING: When Tim Thomas took the Stanley Cup to his hometown of Davison, Mich., he was met with many a dedication, one of which being a corn maze of him lifting up the Stanley Cup (from Puck Daddy). Well, not to be outdone are the non-Thomas fans in Michigan, mostly the Red Wings fans. Check out this corn maze of a Winged Wheel and a "Go Wings" scribbled in it in the Casco Township. Time for a battle of the corn! (Photo courtesy of Twitpic.)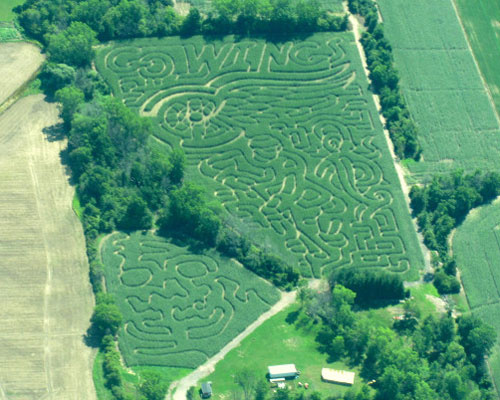 For more hockey news, rumors and analysis, follow @EyeOnHockey and @BrianStubitsNHL on Twitter.