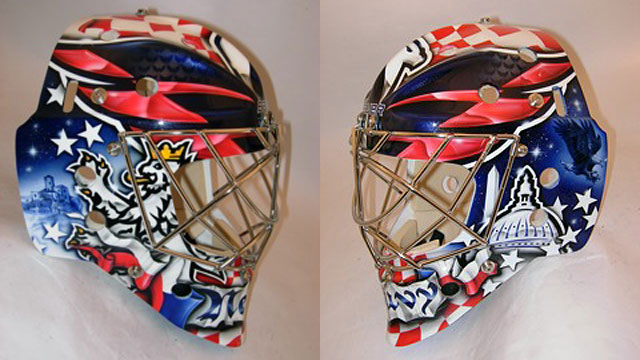 Continuing in what has become a summer tradition of revealing the goaltender masks for the upcoming season, we present to you the cage that Capitals goaltender Michael Neuvirth will sport this season.
There is no better way in hockey for a player to show their identity and character than a goalie and his mask. And I must admit, this is one of my favorites.
On one half of the mask is a tribute to his home nation, the Czech Republic that includes a lion with a crown, something that be seen on the nation's soccer emblem among other places, and a castle from his hometown, a staple on all of his masks.
The other side represents the city he plays in, with an image of the Capitol and the Washington Monument with Stars and an eagle. Lucky for him, both the USA and the Czech Republic have red, white and blue as their colors.
On the top is the Capitals eagle that appears on the team logo and the bottom says "Neuvy," his nickname.
Here's a little more on the design process from NBC Washington:
"The goalies tell me what kind of style they want, if they want old school, or retro, or top modern," explained David Gunnarsson, who designed all of the Caps' masks last season. "After the goalie and I have talked, I do some research and thinking and sketching. I present a design idea for the goalie and then I start to paint. It's a very fun process."
To see more of Gunnarsson's designs, check this link.
Photo: NBC Washington
For more hockey news, rumors and analysis, follow @EyeOnHockey and @BrianStubitsNHL on Twitter.