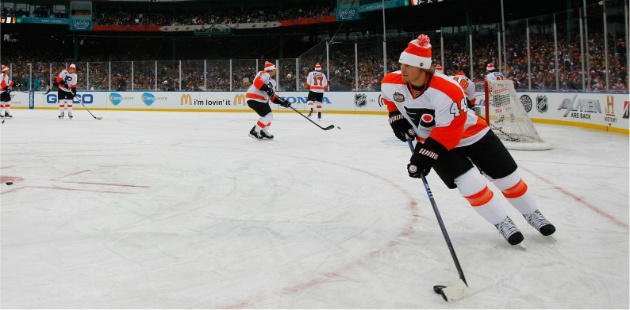 By: Adam Gretz
Even though there hasn't been an official announcement from the NHL or any of the teams involved, it hasn't exactly been a well-kept secret that the 2012 Winter Classic will be played in Philadelphia with the
Flyers
hosting the New York
Rangers
on Jan. 2.
This week the Flyers organization sent a letter to its season ticket holders all but confirming the Winter Classic will in fact take place in Philadlphia on that date. According to Sarah Baicker of CSN Philadelphia,
the letter includes the following section
:
"The Flyers will host the 2012 Bridgestone Winter Classic! You will notice that only 43 games are included in your ticket and parking book(s). Winter Classic tickets are not a part of your 2011-12 season ticket package. However, all full season ticket holders will have the ability to purchase up to same number of Winter Classic Packages as 2011-12 full season seats you own."
It's pretty much guaranteed the venue will be Citizens Bank Park, home of the Philadelphia Phillies, as the football stadium in Philadelphia -- Lincoln Financial Field -- will be occupied the day before for a game between the Eagles and Washington Redskins. There is absolutely zero chance the stadium can be transferred over to hockey in that amount of time. Preparations in recent years (Pittsburgh, Boston, Chicago and Buffalo) have taken more than a week.
It will be the second time in three years the Flyers will be involved in the now annual outdoor game, having visited the Boston
Bruins
at Fenway park during the 2009-10 season. The Bruins won the game in overtime, 2-1, thanks to a goal from
Marco Sturm
. Even though this will only be the fifth year for the Winter Classic the Flyers are the second team to get another outdoor appearance, joining their cross-state rivals from Pittsburgh who have also played in the game twice (they hosted Washington last year and played in the innagural game in Buffalo).
It will be the Rangers first appearance in the game.
Photo: Getty Images
For more hockey news, rumors and analysis, follow @EyeOnHockey and @agretz on Twitter.